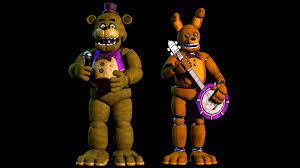 Theaters have been booming ever since the release of "Five Nights at Freddy's" on Oct 27. The movie was directed by Emma Tammi, also known for directing "The Wind." Scott Cawthon, the creator of the FNaF games, helped write the movie with Seth Cuddeback and Tammi. This movie is best suited for long-time lovers of the FNaF games, but it still does a good job of including people who are not as familiar with the games.
While the movie has its differences, it does include a good chunk of the game and book lore. The movie follows the main character, Mike Schmit, who acquires a job for a closed down pizzeria. His job consists of working from 12 to 6 a.m. as a security guard for Freddy Fazbear's Pizza Place. However, his shifts are spent trying to look further into the mysteries of the pizza place's past while trying to save himself in the present. With the animatronics and their creator trying to claim Schmit as their own, he faces thrilling and supernatural events.
The casting for this game adapted movie is not far from perfect. Mike Schmit is portrayed by Josh Hutcherson (Peeta Mellark, "The Hunger Games".) Hutcherson did an amazing job on establishing a deep connection between himself and his character. The main antagonist, William Afton (Matthew Lillard, "Scream"). Throughout the movie, characters  help Mike combat the animatronics. One is Vanessa Monroe (Elizabeth Lail), a police officer. Another being Abby Schmit (Piper Rubio), Mike's 10 year old sister. The film also includes a couple cameos from some long-time gamers of the franchise, which added excitement to the overall experience.
The most important characters, the animatronics, are portrayed extremely well. There is Freddy Fazbear, the lead singer of the band. Bonnie the rabbit, who plays the guitar. Chica the chicken, a backup singer. Lastly, Foxy, who resembles a pirate, resides separately on his own stage in the pizzeria. These animatronics are 100 percent real. They include no CGI but have puppeteering effects. Tammi also stated that the animatronics had their own quirks off set. Bonnie was caught winking when the puppeteers were not even touching the remote.
One well thought-out detail throughout the film is the song that the animatronics play while performing. They play a song called "Talking in Your Sleep" by The Romantics. This song describes the current situation that Mike is trying to get closure about. The song was also released in 1983, referencing the infamous bite of '83.
This long awaited movie does an amazing job at bringing the game to life. The jumpscares scattered throughout the film really add to the creepy atmosphere. Although it is not as gory as some anticipated, it is a quite brutal film. The movie expanded the plot for fans of the FNaF games, while still making it watchable for the average viewer.