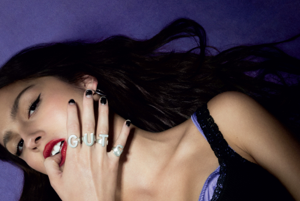 Olivia Rodgrio is a songwriter and actor whose fame started as a Disney actress. She later pursued a music career and released her first album, "SOUR" which was a huge success, earning her a Grammy and a Billboard Music Award. And now, with her second album, "GUTS," she continues to surpass expectations and deliver emotional music. 
"GUTS" was released on Sept. 8 and produced by Dan Nigro. Rodgrio leans into the rock genre throughout the entirety of the album. She takes listeners on a heartfelt trip of self-discovery and growth. All of the songs on it are their own and capture Rodgrios's raw feelings. Her strong voice and relatable lyrics create a personal and authentic experience for everyone.  The lead single, "vampire" delves into themes of desire and the allure of a toxic relationship by comparing an ex-boyfriend to a vampire: 
You only come out at night/I used to think I was smart
But you made me look so naive
The way you sold me for parts
As you sunk your teeth into me 
The eerie melody and haunting vocals make the song stand out from the rest. Additionally, the captivating piano ties it all together.
"all-american b—-" is the opening track and exposes the pressures of conforming to social expectations as a woman. In the verses, she sings sweetly with a guitar strumming in the background. But in the chorus, she sings harshly, saying, "I know my age, and I act like it: Got what you can't resist/ I'm a perfect all-American b—-", and the guitar starts shredding. The different parts symbolize the hidden rage that women feel. 
The last song of "GUTS", "teenage dream," talks about the fear of growing up and the expectations society puts on youth. The delicate piano and her soothing voice provoke melancholy feelings and allow the listeners to understand Rodrigo's troubles of peaking at such a young age: "When am I gonna stop being a pretty young thing to guys?/ When am I gonna stop being great for my age and just start being good?"
Overall, Rodrigo's intended audience is teenagers and women. Her album, "GUTS" explores themes of love, heartbreak, and self-discovery. It resonates with listeners through its raw and honest lyrics. It's definitely worth a listen for anyone who needs a good song to cry to or sing along with.