Spring Sports Wrap-Up
A number of Socastee's spring sports teams are young and struggled this season, but most teams showed a lot of improvement, meaning the coming years should be exciting.
VARSITY MENS BASEBALL
The varsity mens baseball team went 11-15 overall (7-5 region) and went to the district round of playoffs. "We always would have liked to have played longer in the playoffs, but we got better everyday and competed!" Coach Hudson said. He said he is happy with how the team held themselves, showed up everyday, and wanted to be there. 
VARSITY WOMENS SOFTBALL
Varsity womens softball finish 1-22 (0-12 region). The team made it to the playoffs, but lost in the opening round.
VARSITY MENS LACROSSE
Varsity mens lacrosse 8-8 (8-7 region). The men's team lost in the first round of playoffs against Lexington. "We finally figured out how to win tight games," Coach Mr. Matthew Fox said. Highlights of the season included winning in overtime the first game of the year against North Myrtle Beach, "then crushing St. James the second time we played them this year 11-6." Mr. Fox also won the SCACA Men's Lacrosse Coach of the Year award.  Coach Fox is very excited for next year and said he doesn't have to fill a lot of the spots because most players are returning next year.
VARSITY WOMENS LACROSSE
Varsity womens lacrosse went 10-7 and they lost in the first round of playoffs Lexington. The team faced a lot of injuries throughout the season. "This year we were excited to start the season with eight seniors and some young talented players," said Coach Laurie Rappeno. "We faced adversity this year with lots of injuries, with 2 seniors only getting to play about half the season was the lowest part of the season."  Highlights of the season included making the 1st round of the playoffs, having a 200-career and 100-season-goal player in Hailey Rappeno, 100 career goals by Savannah Limehouse, and 100 season saves by Kylie McWhorter. 
VARSITY WOMENS SOCCER
Varsity womens soccer was 11-10-1 (5-3 region, 6-7-1 non-region). They lost in the first round of playoffs against Lexington. The team battled some injuries, but overall was able to redirect and get over it. "We had a great season marked with injury management," Coach Jeffrey Church said. "After suffering injuries at the start of region play, we fought our way into second place in the region for the second season in a row. This group made great strides." 
VARSITY MENS SOCCER
Varsity mens soccer was 12-5 overall (6-2 region), and they made it to the second round of playoffs. "The team was able to bond, grow and understand each other, but the refs weren't very much on their side," said Coach Memo Suarez. He said highs would be "the growth and development and the maturity of the players," while lows would be "too many yellow cards, including coaches." 
MENS TENNIS
Mens tennis went 9-10 and made it to the second round of playoffs. The team struggled with a lot of new players, which led to the seniors having to become leaders and show them the ropes. "We had our trials and tribulations  this season," Coach Matt Duffy said. "We had a lot of newcomers that really stepped up big with a revamped roster." He said the team played hard every match. "We played with a lot of heart," he said.
MENS GOLF
The mens golf team finished 9th in the region, one place from qualifying for state tournament. Daniel DeVaux was leading scorer for the Braves with a 76 and made it to states.
TRACK
The team finished third in the region. Omari Taylor was a 1st Team All-Region Lower State qualifier.  He qualified for three events in the State Championship — 110-meter Hurdles, 400 meter Hurdles, and the 4 X 400 meter relay (the other three 400 meter relay sprinters were London Wilder, Jevon Graham and Quadir Scott).  Other strong runners included Addison Martin and Hayden Marks. Autumn Graham was the regional champion in javelin.
JUNIOR VARSITY BASEBALL
JV baseball went 5-15-1 overall. The team had some ups and downs, but overall they grew and bonded. "This team is young, but filled with exciting potential," said Coach Patrick Chilson. "I am proud of the bond these boys formed during the course of the season. They truly were and are great teammates, being there for each other both on and off the field." 
JUNIOR VARSITY SOFTBALL
JV womens softball finished with a record of 3-10 (2-2 region).
JUNIOR VARSITY WOMENS LACROSSE
JV womens lacrosse went 2-8. The team has a lot of chemistry, said Coach Hampton Campbell. "This team bonded and got along so well," he said. "They improved so much from the beginning of the season to the end of the season. I have high hopes for next year with how much these ladies have improved."
Leave a Comment
About the Contributor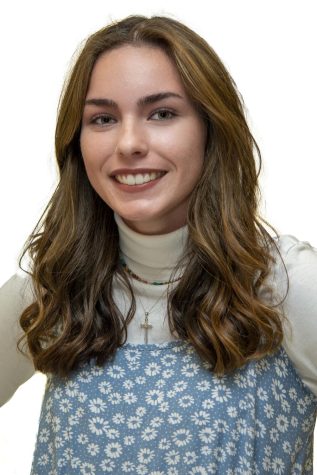 Catie Lovelace, Staff Writer
Catie is a senior who has been a part of the journalism and yearbook staff for three years. She joined journalism and yearbook because she loves taking...