Marriage, death, reconnection, and forbidden love. These are only just a few aspects of this year's dramatic competition band number
The much bigger marching band will perform  "The Hollow Cathedral" when it competes against other schools this weekend and throughout the rest of the competition season.
"The performance is a tragic love story," Director of Bands Mr. Will Jung said. 
"The general idea is that one of our seniors Damian, who plays bari sax, is the husband of our guard captain, Shanelle," he said. "But unfortunately, he passes away." 
The Grim Reaper will come out and escort Damian into a coffin. Throughout the show, Shanelle will be trying to find Damian's spirit in the cathedral they got married in while being blocked by all of these evil ghosts and spirits. 
"That's going to be portrayed by the rest of the band," Mr. Jung said.
Color guard will wear black and purple gowns that match the band's overall equipment. Wide banners will portray a cathedral.
"The highlights are going to be the stained glass that's on the other two big props," he said. "And the guard's final flag is going to be the exact same as the stained glass design."
Music choice and props will add to the performance. Some of the song choices include "Lavender Town Theme" from Pokémon, "Red Lights" by K-Pop band Stray Kids, and "Isabella's Lullaby" from the manga and animated series "The Promised Neverland".
"I want to make sure that most of the music is in a minor key – just to reflect the unhappy, solid mood," Mr. Jung said.
Senior Gabby Martin is the band's drum major this year. Previously, she conducted the band as the asst. drum major. She joined marching band her freshman year after playing clarinet and bass clarinet in middle school.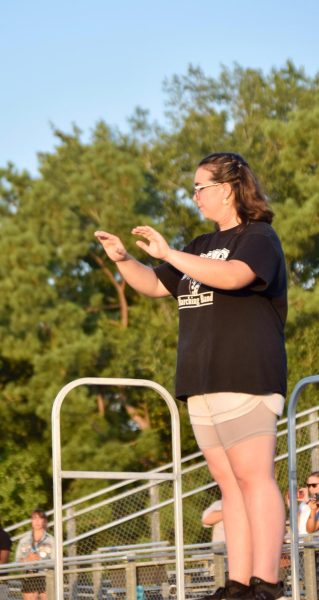 "I needed something new to experience," she said. "I already knew how to do band, so I figured I'd give marching band a try." 
The band's increased size should help in competition, she said.
"My first year we had 15 kids, I think," she said. Last year, the band had 35 members and now has 44 members.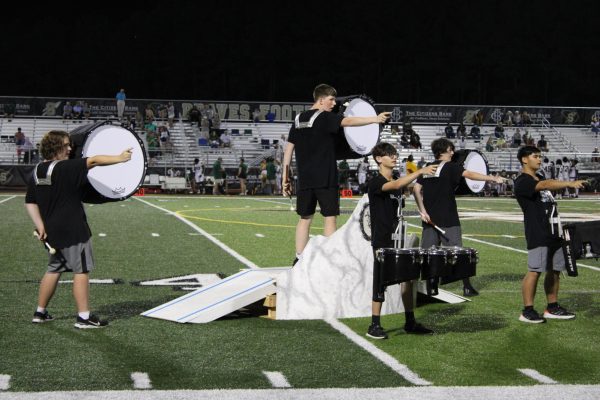 "In the marching band world, a bigger band means better scores, typically, because it allows you to do more visuals," Gabby said. "It just makes your band look a lot more visually impressive with a lot more people in it."
Over the course of the summer, the band worked hard and became a tight-knit group.
"The group we started with my first year, a lot of them are still in the band. They're seniors or some of them are juniors, maybe even sophomores. So, you have that sense of comfortability," Gabby said. "We've all known each other and have gone through high school together, so we're all closer."
Brianna Fahey, the band's brass captain, said her favorite part of marching band is the people.
"We have each other's back," she said. "We bond; it's like a family. I love it."
Both Gabby and Brianna work hard to keep the band in line. 
"My basic job is to keep everyone on time," Gabby said. "The drum major is supposed to be the leader of the band. So, anything that the band director isn't managing or coordinating, the drum major kind of micromanages all the other tasks."
At first, Brianna wasn't sure if she was ready to become a captain. However, she got used to her duties and improved.
"Over the course of the weeks that we spent together during band camp, it really shaped me and I became better at that," she said.
Band members' parents also have contributed to their competition number. Gabby's dad Adam Martin said he didn't realize  how much time and energy being a band parent would require.
"You're building props, you're moving props, you're making sure the kids have got plenty to eat and drink, and you drive to competitions, loading equipment," he said. "But when it all comes together, and you actually get to see your kid out there, competing is worth it."
The props have been designed to portable. 
"They've gotta be light, so you can get them on and off the field quickly," Mr. Martin said, "and so you can move them back and forth to the competitions without too much trouble."
He said he enjoys seeing how the band grows throughout the competition season.
"They're all very talented, but you see a progression from when camp starts until the first competition, and then from that first competition to the last competition," he said. "To see how much they gel together and they improve and just really make the show better with every performance is exciting to watch."