Little Mermaid Cast Gets into Character to Prepare for Show
The Little Mermaid Spring Musical begins in a week, and the cast are preparing themselves mentally and physically for their role.
The plays leading actors will be Mattie Washburn as Ariel, Lily McLendon as Ursula, Scout Owens as Scuttle, Ethan Medeiros as Prince Eric, Mason Martin as Sabastian, and Allen Hillegass as King Triton.
Lily is a senior who has been performing since 4th grade. She said playing Ursula is a dream role for her, although sometimes being in character as someone so evil for so long can be stressful.
"Some days it feels like I'm truly in Ursula's lair with her eels, being her evil self," she said, "but being her is important."'
Ursula is the femme fatale of the show, she said.
"She is so dark and cynical, yet she thinks she is the best thing since sliced bread!" she said.
In addition to vocally warming up everyday, Lily wears a hoop skirt to each practice to mimic her giant costume, 
"I wear heels to perfect my femme fatale walk," she said, "and I get into character the second I hit the auditorium."
Ethan says Prince Eric is known as a young man who is destined to become king of his people, yet he'd rather be venturing the ocean and exploring the world.
"I approached this role very open minded," he said. "Seeing that most people know him as a pretty face I wanted to give him more layers, a more humanistic feel."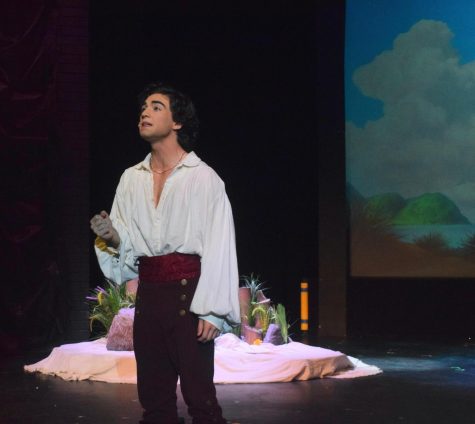 Ethan says he has been preparing for this role since December.
"To help me get into the prince's mindset, I would try and perfect his infatuation with this voice, it helps me feel his vulnerability and raw feelings," he said.
Scout Owens said he has been approaching his role as Ariel's seagull friend Scuttle a tad bit differently.
"I have been watching the movie repeatedly to study Scuttles' character, trying to make my own as similar as possible," he said.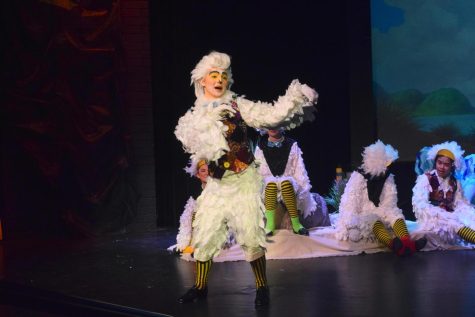 Scout says that getting into this role initially was tough.
"Playing Scuttle wasn't something that came natural to me," he said. "He was definitely one of the most difficult characters for me to be able to express."
Leave a Comment
About the Contributor
Piper Caswell, Staff Writer
Piper is a Junior who only recently took up journalism because of her interest in photography and learning about others. Since she was young, she has been...