Foreign Exchange Students are Back
For the first time since the Covid-19 pandemic, Socastee High School is hosting Foreign Exchange Students. 
Sponsored through various programs, students from all over the world come to Myrtle Beach and live with a host family while attending Socastee. They are able to explore Myrtle Beach, work on their English, experience American culture, and make new friends. This year, Socastee is hosting four sophomores from Brazil, Denmark, and Germany. 
Sofia Feres Tetto is visiting from Brazil.
"I have always wanted to be an exchange student because I wanted to learn about a new culture and go to a completely new house and get out of my comfort zone," she said "It has been my dream since I was a little kid and I am really happy I am finally getting to do it now." 
The foreign exchange students said Socastee provides more opportunities in its curriculum than in their home countries. Here, they are allowed to take different electives and try new things instead of focusing purely on academics. 
Lais Buss is studying here from Brazil and has to adjust to a completely different course load. 
"We take 14 classes a year and do not have very many options," he said. "It has been more fun here because I can take classes that I want to take." Lais said.
In the month that they have been here, the students have already explored much of not just what Socastee High School has to offer, but Myrtle Beach. 
Justus Bruggemann from Germany goes somewhere or does something with his host family every weekend.
"They also have a son, so we do a lot. We have tickets to go to Coastal home games. We have gone to the Nascar track in Darlington. And we went to Carowinds in North Carolina," Justus said. 
Naturally, having the beach so close has been exciting for the new students. 
"I have been to the beach a lot, I love the beach," Sofia said. I have been to the movies."  
Lais has been to the beach and Ripley's Aquarium with her Marine Science class.
"Everything is so beautiful here," she said. "The city I live in Brazil is more industrial and not close to the beach. Here there is so much greenery and I love nature," she said. 
Cilius Wichmann is studying here from Denmark and said that he has seen a lot more fast food here than he is used to. 
"McDonald's, Subway, and Burger King are the only fast food places that we have in Denmark," he said. "I have tried Chick Fil A, Cook-Out, and Wendy's. Chick Fil A has been my favorite so far."
Sofia said Walmarts and bigger stores were new to her and something she did not have access to in Brazil. 
All of the exchange students have had to adapt to climate changes, but enjoy the warmer days in Myrtle Beach. They have also had to adjust to reading the temperature in Fahrenheit instead of Celsius. Lais points out how Americans use measurements such as feet instead of meters and pounds instead of kilograms. 
"Speaking English has been an adjustment as well as the dates. I am used to putting the day and then the month," Cilius said. 
Other exchange students have had a harder time adjusting to routines. Sofia describes her adjustment to Americans' eating habits and schedules. She used to get out of school around noon and go home to eat rice and beans for lunch. 
"I ate my first peanut butter and jelly sandwich a week ago," she said. "I had eaten peanut butter and jelly but not together in a sandwich."
In addition, Sofia has noticed a cultural difference in hygiene. 
"I was brushing my teeth in school, before tennis practice and a girl saw me and asked me why I was brushing my teeth and told me people here only brush their teeth twice a day," Sofia said.
The foreign exchange students all experienced differently structured school environments and schedules. Their days tended to be shorter, and they went to different classes on different days and had different extracurricular activities spread out throughout the week. 
"In Germany, You have a lot of things to learn, the knowledge is very widespread so you do not have to learn everything quickly but not retain all of it,"  Justus said. "We are able to practice and repeat lessons. Classes are not every day, sports are not every day, everything is spread out."
Sofia said at her school in Brazil, students don't switch classes.
"There was only one classroom and the teachers would come and go," she said. "We weren't given many options for classes, so it is nice to have a choice." 
Lais enjoys the opportunities Socastee has to offer. 
"It has been hard, but at the same time it is perfect," she said. "Everything is new, everything is so different from Brazil. I am really happy every day. Nothing bores me, I really want to come to school every day."
She said Socastee allows her to be more creative with her image.
"In Brazil, we have to wear uniforms, and I like that here you can express yourself through your style," Lais said. 
Justus and Cilius have chosen to get involved at Socastee by playing for the Varsity Football team, while Sofia has been participating in both sports and the arts with tennis and Show Choir.
Sofia is trying to make the most of her time here, but so much change has not been easy. 
"Making friends is hard in English," she said. "It is already hard to change schools, even in the same country, but then having to talk to people in English is completely different." 
Despite this, she said, "I really want to remember this as one of the best times of my life and meet a lot of people here and make long-lasting friends. And to be able to tell people that I have been here and survived this because it is not easy. It is really hard, but it is so worth it."
Leave a Comment
About the Writer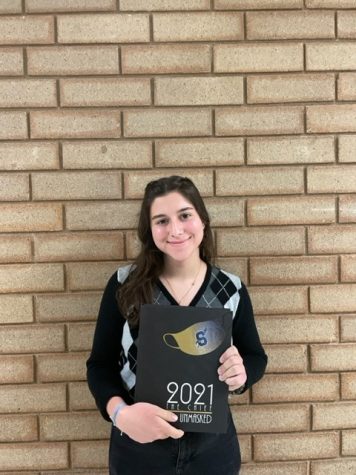 Vanessa Alaimo, Staff Writer
Vanessa is a senior who joined Yearbook/Newspaper last year. She has always loved photography and writing and was looking for a way to use these skills...