'School Mom' Mrs. Jones Will be Missed by English Students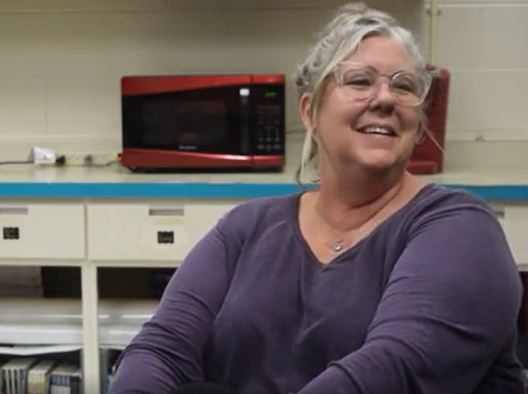 Mrs. Jones has always been a caring and nurturing teacher, calling students "sweetie" and "darlin", and leaving her door open for students to visit anytime.
Senior Ester Matias had Mrs. Jones as her English 2 teacher during her sophomore year, but can still be found in Mrs. Jones' room hanging out throughout the day. 
"I feel like she became my school mom," Ester said. "I come in here all of the time to hang out with her and talk to her about my life." 
Ms. Jones (formerly Ms. Martin until October 2020, when she got married) has taught English 30 years overall, and has been at Socastee for the past 9.  She spent a number of years working with the reading support program, Reading 180, and also the foundational English reading program, System 44. System 44 specifically offered support to ESOL students that struggled with learning the sounds and letters of the English language. 
She said teachers should not look at a student and make assumptions. 
"Whether it be about their intelligence, their kindness, their faith or their home life, you have to take the time to get to know that student," she said. "Every one of our students has some kind of quality that you can find as a teacher." 
Since the beginning of 2020, she has been teaching at HCS Virtual from SHS. Sophomore Carson Port, who had Mrs. Jones as a virtual teacher, said she helped him through struggles with motivation that he faced when starting his freshman year virtually due to the COVID-19 pandemic. 
"Mrs. Jones was very gracious and helped me on my assignments whenever I needed it," he said. "I felt like I could always reach out to her." 
Mrs. Jones is very excited for this next phase in her life will now be channeling her nurturing to her family. Specifically, she looks forward to spending more time with her grandchildren and wants to be available to help out with "grandbaby number four on his way." 
"I told Mr. Rich, 'I've got a new boss," she said. 
Mrs. Jones wants to leave teachers with the advice that "the job isn't everything." She wants her colleagues to know that it's easy to get so wrapped up in work that they forget to enjoy and prioritize their home lives as well. 
"Come, enjoy the kids, teach, but go home and enjoy your family too," she said. "Because you know when the day is done, your home life is very, very important."
Leave a Comment