Cross Country Runner Marks His Course for Success
Hayden Marks, Socastee's fastest cross country runner, has been posting record times and looks like he's on his way to make it to states again this year.
He has placed first at a few meets and his current best time is 18:04* minutes in a race.
That's quite an achievement — especially considering the junior athlete almost quit the team before he even started his freshman year. 
He had always liked running as a kid and had participated in a lot of community races: "I was always two laps ahead," he said. "I kind of knew I had it in me." 
So, being a part of the cross country with his friends freshman year seemed logical. However, when he first joined, he felt overwhelmed and thought it would interfere with his life outside school.
"They were handing out uniforms and we were looking at the schedule and we were worried because it would be meets on the weekends," he said, "and they'd run into Clemson games and stuff."
Family is important to Hayden, and his family goes to almost every Clemson home game.
"I went to my first game when I was two months old, so I've been going for forever," he said. "I was born in the summer; that game was in August, and I was there. I was there in the stadium, in the same spot with my family that we've been sitting at my entire life." 
Because he thought cross country would interfere with Clemson games and other parts of his life, he called his parents to say he wanted to quit the team. 
"I told my mom, 'I don't like the way the uniform looks'," he said,"'the shorts are too short.' I didn't like anything about it. I just didn't want to do it at all."
But his dad told him he would regret quitting — and once he took a picture with the team, his dad said "you have to do it now".
Luckily, the first race Hayden "just fell in love with it. I made varsity freshman year, and then made varsity ever since," he said.
Even though he has a lot of natural ability, hard work also plays into Hayden's success. He trains even when he isn't running with the team, running 6 days a week.
"On Tuesdays, I have an hour run," he said, "then Wednesdays, I have a light 4-mile run on the golf course. And then on Thursdays, I do six 800s. On Fridays, I'd have another 4-mile golf course run.  Then on Saturdays, I do a 6-mile run… and then on Sundays, it's another hour-long run."
Hayden says that the key to running is keeping a consistent routine, and running even on days he doesn't feel like it. 
"Just do the work," he said.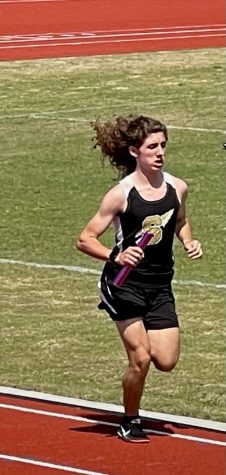 Hayden hopes his hard work will allow him to run in college. 
"My main goal is to go to Clemson," he said, "that's really what I'd like to do."
He hopes to study marketing so he can help run the family business managing various tourist attractions around Myrtle Beach, such as mini-golf courses and the Fun Warehouse. 
As with running, he is putting a lot of work toward that goal. He has tried various positions at the Fun Warehouse so that he can learn and help out as much as he can.
"I'm mostly on the Go-Karts, so I know how to work on them," he said. "I learned how to weld this summer. It's a lot of fun learning it all from top to bottom." 
Staff Writer Leea Port contributed to this story
*UPDATE: Hayden beat his personal best to run a race in 17:31 in mid-October.
Leave a Comment