Girls Golf Gets to States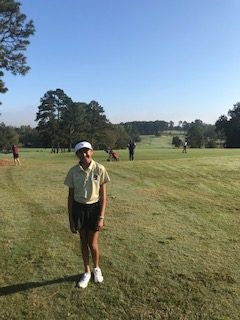 Despite the profound impact COVID-19 had on sports — with restrictions in fan attendance, practices, equipment and games — Girls Golf was not held back. 
After a long season starting in August, the team, coached by Roni Shoemaker, had a great season, making it to Lower States and even having one player — first year 7th grader Maya Patel — head to states. She sat at an 89 for the season. 
"Getting to lower state was definitely the season highlight and having a first year 7th grader make it to states," Coach Shoemaker said. She also emphasized how proud she is of all the plates, who range in age from 13- to 18, for all of their hard work. 
Due to the current pandemic, there were a lot of new rules that the players had to follow. Each player, when standing closer than six feet, had to wear a mask. Social distancing was heavily enforced at matches, and the players were not allowed to pick up each other's balls.
Because golf is a formal and polite game, handshakes are regularly exchanged. However, due to COVID-19, the players were unable to shake hands with their opponents. 
  Senior Alexis Neumann says that in order to stay in good spirits throughout the match each player would always wish each other good luck before teeing off.
Her favorite part of this team is "how close and friendly everyone is". She also says "loves being a Senior because she can help teach the younger girls and [she] gets to watch them grow as players".
Leave a Comment