Enola Holmes Packs A Lot of Girl Power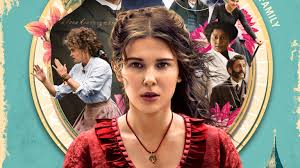 We have all heard of the detective Sherlock Holmes but did you know he had a little sister? She is the main character in the movie Enola Holmes, which was released on Netflix this fall. The action-packed movie puts a refreshing twist on the old detective series. 
The movie is set back in 1884. Holmes, who is exceptional at solving clues and mysteries just like her older brother, works to figure out what happened to her mother who disappeared. Mycroft, her other brother, and Sherlock want to send her away to a finishing school for proper ladies. Instead, Enola goes on a journey to search for her mother. On her journey, she takes a train and meets a runaway named Viscount Lord Tewksbury, Marquess of Basil Weather (Louis Partridge). Little does she know, meeting him will get her into a lot of danger.
The casting for the movie was spot on. Enola Holmes was played by Millie Bobby Brown, who is also in the Stranger Things series.  Sherlock Holmes, played by Henry Cavill, played Spiderman. Enola's mom, who is played by Helena Bonham Carteris also currently in The Crown on Netflix and has been in Harry Potter. 
Another reason to watch this movie is the smart writing. The movie explores themes of women's rights, along with that of a young woman discovering who she is. Enola is "alone" spelled backwards, appropriate for a young woman finding her strength and independence. 
Leave a Comment