Students in New Club to Compete Over Books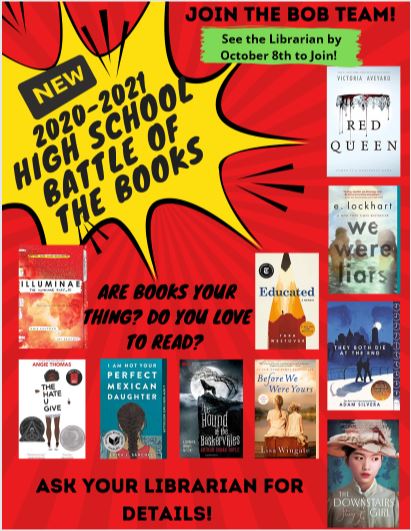 A new club is starting at Socastee for those who love to read. 
About a half dozen students have joined Battle of the Books, a program where a team of students reads certain books and competes against other schools, answering questions about the book. 
Librarian Mrs. Wilkerson, who is the club's sponsor, is excited about the battle of the books and how the team will do this year, especially "watching our team work together and grow as they prepare for the competition."
 The competition is in April, "where they show off what they have learned as a team," Mrs.Wilkerson said.
Of course, she's not the only one who's excited about it. Students competing in the battle of the books also are happy about the new program. 
Freshman Aydan Alverson, who had done Battle of the Books at the middle school level for three years, said, "I like reading the books and doing the contest."
Freshman Kasey Matthews is another team member. 
"I love to read and I'm really good at it, so it's a test of my knowledge," she said.
Library Assistant Mrs. Ashley Tindall, who is helping coach the team, said the books that were chosen are well rounded and will hit everyone's interests. 
One of the books is The Hate U Give by Angie Thomas, which tells the story of a girl who watches her childhood best friend get shot by a police officer, she said. 
Another is a Mystery book called The Hound of the Baskervilles by Arthur Conan Doyle, which is about Sherlock Holmes, who is asked to investigate the tale of a hound that haunts the lonely moors around the Baskervilles' ancestral home. 
And one of the other books is a Science fiction book called Illuminae by Amie Kaufman about Kady and Ezra, who are from the planet Kerenza, which is at war.  They find themselves on a space fleet fleeing the enemy, while their ship's artificial intelligence system and a deadly plague may end up being the end of them all.
Leave a Comment
About the Contributor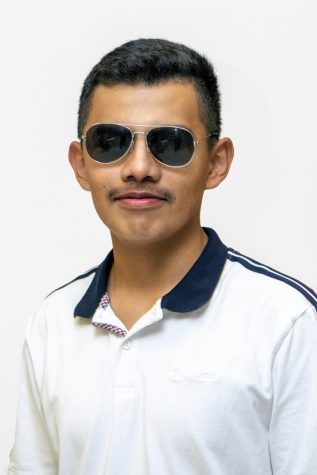 Eduardo Ajuech-Agreda, Staff Writer
Eduardo a is a junior who's in his second year of yearbook and has a year's experience in Journalism. He joined the Yearbook due to his enjoyment of...