Coach Hudson Leads by Example
This past Homecoming, Spirit Week did not have as much participation as usual. 
However, Varsity Baseball Coach Curtis Hudson participated every day. For Country Club day, he wore a Socastee polo shirt with a purple blazer, for Decades Day he dressed up as "Coach Hudson's grandma", as he has for years.
The Leadership Development and Psychology teacher is one of the most spirited people at Socastee High School. In addition to dressing up for Spirit Days, he's always in the hallway saying, "Good morning handsome. Good morning beautiful."
"My favorite thing about Coach Hudson is his positivity," Principal Mr. Jeremy Rich said.  "No matter what kind of day you are having, Coach Hudson's positive attitude and demeanor always lifts your spirits." 
Coach Hudson is going into his 35th year teaching and his 12th year teaching here at Socastee. But rather than getting burnt out as some teachers do, he seems happy as could be.
Sophomore Kara Spillars, who has Coach Hudson for Leadership Development, says, "He is so energetic and positive and always puts a smile on our faces. We are always doing new things and learning something different every day."
Sophomore Hayden Johnson, who is in both Leadership and Psychology says he likes how Coach Hudson IS consistently positive.
"He is like no other teacher," Hayden said. "I just like how genuine he is and how you can talk to him about anything at any time."
Coach Hudson said he makes a real effort to respect his students and to let his students know "you are loved." 
"Whether I am teaching psychology or Leadership, we are all real in the class and I will always be honest with you, but respect you," he said. "I try to be the same person in school as I am at home."
Leadership is one of the most popular classes at Socastee. It's a very interactive class, with guest speakers every week and icebreakers the students love to do. Coach Hudson said his goal is to teach students to make a difference.
"The purpose of Leadership Development is to be the change you wish to see in the world," he said. 
In normal years, the class has a Table Manners Day and takes a number of field trips, including to a special needs class, Socastee Elementary, and Special Olympics. 
"However this year things are different," he said.
But the class is more important than ever for students in these trying times, he said. He said he is trying to get students to simply "become better people, and not to think less of yourself but think of yourself less often. To put others first and don't complain." 
Leave a Comment
About the Contributor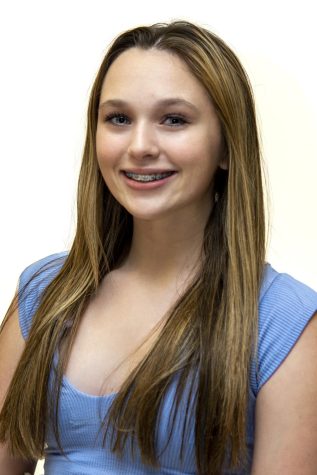 Emma Cartner, Staff Writer
Emma Cartner is a junior who was a part of the yearbook in middle school, took journalism her freshman year, and has been a part of our Yearbook/Newspaper...