Behind the Screens: The Life of a Virtual Student
This year, as coronavirus continued, I made the choice that 440 Socastee students did and enrolled in the  Horry County Virtual Learning Program. I chose the virtual program because I have four younger siblings, one of whom is my medically fragile sister and I wanted to do all that I could to keep them safe. 
Others chose the virtual program for numerous reasons — from being able to do school from the comfort of their own homes to fear of the virus itself and the implications that testing positive could have on their family members and loved ones.
The program has had it's advantages, but it also has its challenges, just like most of the situations that 2020 has thrown our way.  Here are some tips to surviving — and possibly thriving — in virtual school.
Realize that Virtual learning is different than E-Learning
Last year when schools were temporarily closed from mid-March to June due to the Covid-19 outbreak, E-learning was put in place and students worked from home. This temporary solution to a crisis situation was much less planned. Teachers basically had to quickly figure out how to continue their current curriculum online through a mix of Zoom or Google Meet classes and at-home assignments they collected in various ways. 
This year's virtual curriculum is completely separate from regular school, although classes meet the same standards. I am currently enrolled in AP U.S. History and AP English Language and Composition, as well as Art, Fundamentals of Computing, and Spanish 1. Rather than receiving new assignments each day from my teachers, the entire semester or year-long curriculum is provided up front with a pacing guide (I can choose from three different levels). The pacing guide allows me to work at my own pace, as long as I submit completed assignments by the due dates listed. 
Think Outside the Box
In virtual learning, I have to rely on myself to get my work done. Holding myself accountable requires me to be proactive in order to succeed.  I do not have my teacher physically there in front of me, teaching and explaining the subject and revising as needed. As a result, I have to put in extra time and effort on an assignment to make sure that I am truly understanding and gaining knowledge. Thinking outside of the box led me to find that additional learning resources. For instance, I often watch "Crash Course" videos on YouTube related to my history assignments.
Self-accountability is understanding that just because I work hard does not mean that I will always get a good grade. Therefore, it is my responsibility to find the root of the problem and learn how I can fix it, leading to better results.  
Pace Yourself and Prioritize
Although the virtual learning program is self paced, my assignments are still due. Being "self paced" is just a summarized version of saying that I am not required to be on a Google meet/Zoom call throughout the entire school day, nor are my assignments due by 11:59 P.M. each night. Instead, assigned modules or units are due by the end of the week. I fill out task sheets of what I need to accomplish for the upcoming week, place sticky notes on my wall, and use reminder apps on my phone to keep myself on time and organized. 
I am still learning how to find balance in my schedule while putting in my best effort into all that I do. Although my progression pace for my classes is flexible, it can be overwhelming to know that I have an average of at least 15 assignments that are expected to be submitted by the end of the week. To anyone that is enrolled in the virtual program, I advise you to prioritize. Make note of the subjects or assignments that you struggle most in, and make it a priority to focus on them at the beginning of the week. By doing this, you are allowing yourself time to study, organize, and reach out to your teachers before the assignment is due. I have found this process to bring great relief. 
Virtual learning has taught me how essential the significance and the essentialness of time management is. During this process, making the most of the hours in a day has been my biggest struggle.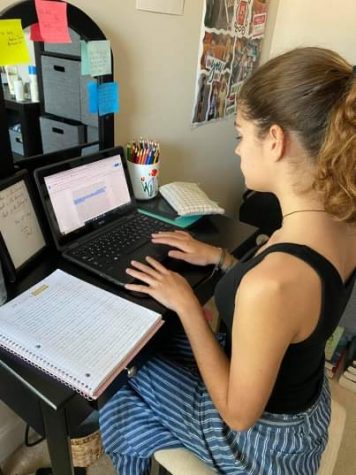 Create a Positive Work Environment
I do not have my teacher physically there to motivate me, instruct me and guide me to get my work done efficiently and timely. This can be very discouraging. To avoid draining dispiritment I have to keep working hard and I have to keep a positive, healthy attitude. I make it a priority to work in a clean, quiet, and organized space that offers natural light. Additionally, my day is that of a typical student. Breaks and meals are concerned, but I have the flexibility to work on whichever subject I feel needs my attention at the time throughout my day. I struggle to allow myself breaks when I feel overwhelmed or confused, but that is actually the best time to take a few minutes to breathe. Stepping away from the computer and going for a 15-30 minute walk is the best way for me to personally clear my mind and return back to work with a focused and calming attitude.
It is very important to be placed in an environment that is supporting and will benefit you academically, and mentally. For example, I have drawings from my little sister and encouraging notes from my mom that are taped to the wall or my mirror around my work space, as well as a framed "Listen with curiosity, speak with honesty, and act with integrity" letter from my dad that sits on my desk to help me stay motivated. 
 Reach Out for Help When you Need It
I have learned to ask questions when I have them. In virtual school it is my responsibility to reach out to my teachers when I am confused, by contacting them through email and attending their office hours. Office hours are weekly google meets that the teacher has accessible to students to join and ask questions on the course or the material. 
Head Guidance Counselor Mr. Robbert Urbaniak  said reaching out is the key to students staying on top of their work. "My biggest concern for the virtual school students, I think, is just keeping up with their work. Because if they don't have a teacher right there in front of them everyday, and if they get away from it or get distracted for say, it is very easy to put things off. And then they don't come back to it. They'll start to struggle, and then they won't know what their resources are to get help. I wouldn't want there to be any student out there to feel lost, or that they can't go through this, because like I said there are opportunities to communicate with the teacher. So my biggest concern is that the students wouldn't be taking advantage of those opportunities."
View Comments (2)
About the Contributor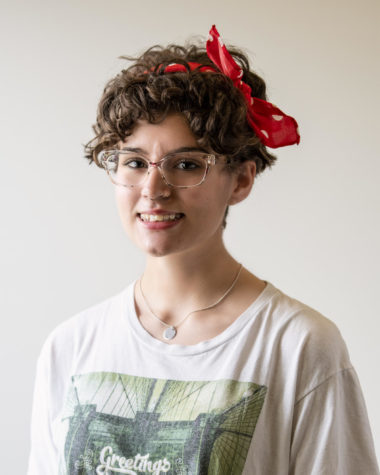 Leea Port, Staff Writer
Leea Port is a senior serving as a co-editor on her third year of writing for Socastee High Yearbook and The NativeVoice.net. She also was part of Socastee's...