New Coach Instills 'Never Quit' Mentality
Physical Education Teacher Ben Hampton has brought a spark of new energy to Braves Football as the new head coach.
He is a Rowan County, North Carolina, native who starred as a running back at West Rowan High School and served as Head Football Coach and Athletic Director at North Rowan High School.
Coach Hampton was also a part of Coastal Carolina's first-ever football program recruiting team. As a Chanticleer, he played in the university's premier game against Newberry, went on to score six career touchdowns, and saw action in 35 games. 
Thenativevoice.net sat down with Coach Hampton to discuss his position and goals for the team.
Q: What prompted you in taking the head coaching position at SHS from where you were in NC?  
A: Having played college ball at Coastal Carolina, I knew the area and have been looking to get back for a while. 
Along with that, the opportunity to rebuild a program, I had to jump at the chance. I love a challenge. It is something I pride myself on, being able to face challenges head on. My father always raised me with the mindset that an opportunity you pass on more than likely will be an experience you will never get again.
Q: What are the Braves biggest strengths and challenges? 
A: I would say at this point our biggest strength is our passion, intensity, and nonstop effort.  Our players are working their tails off, it's really a never-quit mentality. We definitely have some areas to clean up, but our kids are giving us everything they have. Our challenge is that we didn't get a Spring Ball [due to COVID], so we truly are installing a brand new offense and defense on the fly. My hats off to our guys; they are making the most of every opportunity they get to compete. No one expected to face what we have as a program to this point, but here we are we are continuing to improve and I couldn't be prouder of my guys.
Q: There has been a huge transformation in the team's spirit this year. What role did you have to play in that? 
A: I am a very intense individual. I compete in everything I do. I want to win. I want to be the best. I think if anything my guys can always feed off of my intensity and energy. I also try to show my guys first and foremost "I always got you." I may have to discipline you, and I will coach you hard, but at the end of the day I want what is best for every single one of my guys and I will fight for every single one of them.  #FOE  "Family Over Everything"
Q: What about football do you love the most?
A: I love the brotherhood of the game. You truly become a family playing and coaching. If you try to take football on as an individual, it will chew you up and spit you right back out. It is a physically and mentally challenging game. The support system created in a football program can contribute greatly to the success of the program.  It's not about one individual, it is what we can do together. The relationships I have built from this game has carried me to where I am in my life right now.  I have a wonderful supportive wife, two amazing children, we live at the beach, and I get to do what I truly love for a living. I'm not sure what else you could ask for! 
Q: What is the reasoning behind the turnover chain you put around players' necks when they make an interception?
A: It's simply a motivator and a reward. We want our guys to have "SWAG". As this generation would call it, we want to "Drip Hard".  Anything we can do to get our guys to ball out, it's all good in my book.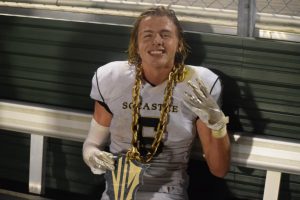 Q:How would you describe your coaching style? 
A: I would say there is a lot of tough love in my coaching style, but it is always love. I am going to push you to be the best version of you. That includes mentally, physically and emotionally.  We are trying to build a football program, but at the same time we are trying to create great young men, great contributors to society, because at some point the game will be done with us all.
Leave a Comment
About the Contributor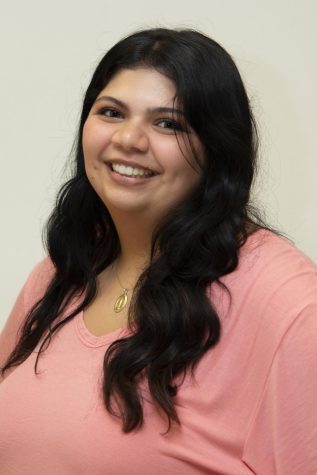 Alexis Harris, Editor-in-Chief
 Alexis is a senior who has been a part of the yearbook/newspaper staff for three years. She currently serves as the Editor-in-Chief of both publications....