Socastee Alumnus Jermaisha Arnold Breaking World Records
Socastee's very own alumnus, Jermaisha Arnold, recently had the World Leading time in the 400-meter when she ran it in 50.71 seconds at the Florida Relays April 1.
The record lasted two weeks, and she is currently 4th in the world with her 400m time. After graduating from Socastee in 2020, she went to Coastal Carolina University and now attends Texas A&M.
Arnold said Socastee  prepared her for life, "Any high school prepares you for life, having to wake up early and start your day," she said. "I liked how I surrounded myself around positive people at Socastee, they made me want to be successful in the future."
Arnold didn't join the track team until her junior year at Socastee, having been a standout on the basketball team. But one day at basketball practice her junior year, the team went outside for some extra conditioning, and she ended up running around the track in 62 seconds, one second over the school record.
 In her first year officially running the 400-meter she had a time of 56.0 seconds. She credits Coach Peeples for helping her reach this goal and being her constant supporter.
"He gave me a lot of confidence going into my races," she said, "especially when I would have a hard workout." 
Leaving high school, Jermaisha Arnold knew that she was going to run track on a full scholarship for Coastal Carolina University. This would be only her second full year of running track. She was pushed by CCU Coach Goodman, who supported her as she navigated the beginning of her running career and college.
"It was still new to me and I started to like it after I realized how good I was getting," she said.
She continued to work hard at Coastal and was recruited by Texas A&M. With this opportunity came personal struggles.
"It wasn't easy," she said. "I had to fly to Texas, which is 18-plus hours from home… but I like being in uncomfortable situations because it helps me grow as a person."
Since transferring, she is surrounded by motivated and dedicated groups constantly pushing her to push herself and grow. She is in a more competitive environment being in the SEC. She has a training group, a 4×4 relay team. 
Running at the collegiate level also has given her the opportunity to travel to other states, and even other countries. She said she took a trip to the Bahamas. She has been able to meet many new people and run against the best runners in the world. 
She has continued to push herself to improve, and ran a 400-meter time that qualifies for the USA championship. 
She describes her training sessions as intense and she likes to know that she is improving with every session and gaining something. 
"I work hard for a reason and I want it to pay off," she said. "So, now my goal each year is to run fast so I can make the USA team in the World Championships every 2 years and the Olympics team every 4 years."
Despite having to have the mental strength to constantly push herself, Arnold has had numerous supporters in her life. Her dad is one of them.
"He has always checked in on me and made sure that I was okay physically and mentally, while also making sure I was pushing herself," she said.
Her advice to current Braves is to strive to be the best in anything they work at. "My life changed in a year by just working hard and believing in myself so, yours can, too."
Leave a Comment
About the Contributor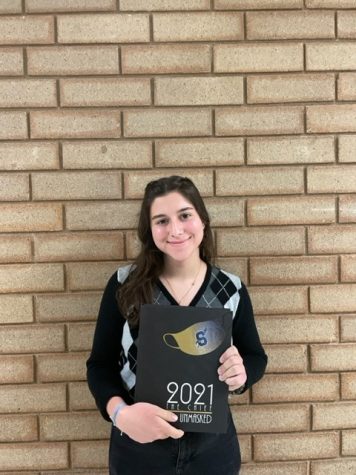 Vanessa Alaimo, Staff Writer
Vanessa is a senior who joined Yearbook/Newspaper last year. She has always loved photography and writing and was looking for a way to use these skills...