Students Praise Young Teachers
Socastee has three new teachers this year who started teaching straight out of college.
Many students say they enjoy having a younger teacher because of the way they can relate to high school students.
"They understand you more than older teachers," Freshman Jaylyn McIntyre said.
One thing they better understand is how teens talk, Jaylyn said. Ms. Sarah Eudy, who is teaching math at Socastee just out of college and only five years away from when she graduated from here, said knowing students' language helps connect with them.
"It's nice to understand the lingo they use, so then I know what's going on a little better than older teachers do," Ms. Eudy said.
However, she said being young can be harder sometimes because students don't think a younger teacher will hold them accountable as much as an older teacher. 
  "I try not to be too harsh," she said, "but they do kind of come with and expectation that its going to be like 'I don't [have] to do any work because she like cool or whatever'," Ms. Eudy said.
Some students feel that younger teachers pay more attention to the struggles of young adults.
"They're more modern and their sense of style is better than most teachers and they  pay attention really well to you and they know what to say every time," Freshman Kitzia Gabino said.
Ms. Eudy said she tries to let students know she's on their side.
"I just hope that the students know that there's always somebody in their corner and that I'm always going to support them and cheer for them, and I want for them to succeed in whatever they do."
Like Ms. Eudy, Ms. Renea Urbaniak came to Socastee to teach math after graduating from Coastal Carolina in the spring. She interned at Socastee last spring. The other teacher just out of college is English teacher Ms. Emily Johnson, also a Coastal grad and former Socastee intern.
Freshman Gianna Kistenmacher said she has a good relationship with Ms. Urbaniak and believes that she is someone that she can talk to about so many things.
"She is a great teacher and also a best friend," Gianna said. "When you need someone to talk to, she's always there and can talk through your challenges. When I talk to her I feel like I won't be judged."
Ms. Urbaniak wants students to know their grades don't define their worth.
"The biggest impact that I want to have on students is for them to just know that they are worthy of so much, and even if their grades aren't the best it doesn't define how worthy they are," she said.
Ms. Urbaniak said was not deterred from going into teaching right away by the fact that some teachers are leaving the profession. (According to edweek.org, a Kansas State University study found that there are more than 36,500 teacher vacancies in the nation and since the pandemic, "teachers have signaled that they're more inclined to quit their jobs, citing high stress, low pay, and a lack of respect").
"I wanted to just jump into that profession right away," she said. "That way, by the time I was 10 years in, I would have so much experience and exposure to resources and that it could just get better every year."
But being a teacher does come with a lot of stress, especially for someone young with a big learning curve and having to deal with teens so close in age.
Ms. Eudy said she takes care of that by not working at home too much.
"I don't have as many responsibilities as a lot of other teachers do outside of school, like going home to their families, but I try to leave everything here alone," Ms. Eudy said. "I at least try to keep the weekends for myself and just find the time for me to just sit down and prioritize my life outside of school."
Leave a Comment
About the Contributor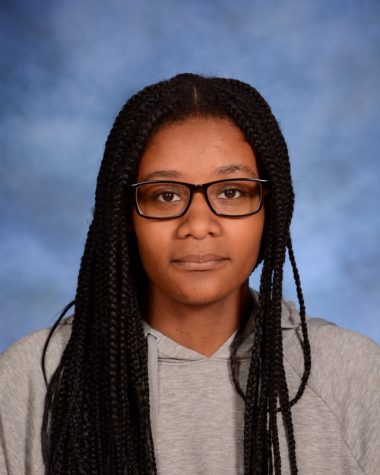 Key'Ara Walker, Staff Writer
Key'Ara Walker is a freshman who is in the 2nd block journalism class.  Outside of school, she enjoys time with her pets and friends. In the future...