Theatre Tech Club Play Key Role in School Productions
A lot of work is happening on stage getting ready for the spring musical The Little Mermaid, but just as much work is going on, if not more, is happening backstage.
The Theatre Tech Club has been working non-stop for months creating sets, finding props, and figuring out how everything from the lights to costume changes to the music are going to work on opening night.
"People who are just watching the show, they don't know how much it goes on, that I broke my back for that," Tech member Emma Ledsome said. 
Emma, a junior, is Asst. Run Crew Chief during the shows.
"We are the ones moving the props on stage," she said. "We have glowing tape to help us see where to put the props onto the stage when it's dark."
This is the third show she has worked on.
"Freshman year The Show Must Go On was my favorite," she said. "It's the one that started it all."
Senior Norah Keller also has been involved with Tech for 3 years. 
"I just really enjoy it," she said. "There's a lot of fun there and a lot of good people [involved]." 
She said A Night of One Acts was her favorite, "but The Little Mermaid is a close second."
During the show, her job is to walk around backstage and float between different areas.
"I kind of make sure everyone has what they need and is ready to go for the show," she said. 
She also helps order and buy props.
"Sometimes we create them," she said. "Sometimes we have to go dig them out of our 'cave of props'."
Projects the Tech group has been working on for The Little Mermaid include:
-making "monster mud" (a mixture of paint, plaster and cement) for the coral used for "Under the Sea" and Trident's castle.
-using pool noodles to make coral and barnacles
-making sea anemones with plastic bottles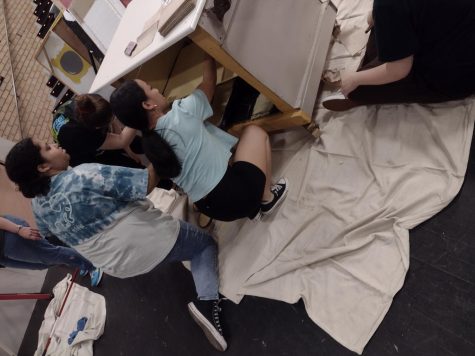 "We''re making a lot of things," Theatre teacher Ms. Delvecchio said. "We're making our whole set or basing it off of projections, and as much handheld stuff as we can."
This includes making the Snarfblat Pipe, the tobacco pipe that shoots seaweed that Ariel finds and Scuttle shows her, she said.
Ms. Delvecchio was hired as a permanent teacher this year, after working as a long-term sub last year. She worked on several productions involving children before coming to Socastee. 
"I started in Tech a very long time ago," she said. "My theater teacher told me 'I think you'd be good at this' and I just fell in love with it."
Joining Tech is a great way for students to get involved if they're looking for a way to be a part of something at school, she said. 
"Tech is always a place where if you want something to do there's always something to do," she said, "whether you can pick up a brush and just paint a solid color, or if you can just control a spotlight, there's always a job."
She believes Tech students' work can be underappreciated.
"I feel that actors don't realize that, yes, they are a big part of the show, but it really can't go on with the people behind you to support you and aid you through the show."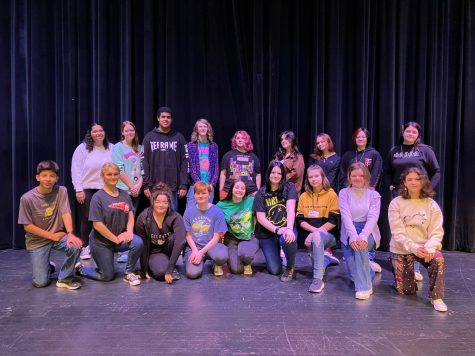 Leave a Comment