History Teacher Mr. Boyle a Published Author
Mr. Chrisopher Boyle is a history teacher who truly practices what he preaches. 
The full-time high school teacher and part-time professor at Coastal Carolina University also makes time to do the work of a true historian. He has published four books about local history.
"I love heavy, I love in-depth history." he said. "I love to really dig through primary sources. I'm proud that every one of [my book reviews] says that they're purely academic."
Mr. Boyle has been a Social Studies teacher here since 2006 and currently teaches IB History and Law Education. He also has taught two history classes a semester at Coastal Carolina University for a number of years.
Growing up in the Hudson Valley of New York, Mr. Boyle has always been surrounded by history. His love for the subject started in his youth when his father would tell him stories at dinner. 
"That was part of his thing, and he really liked history," Mr. Boyle said. "So I learned a lot about Napoleon and the World Wars from him."
Mr. Boyle loved to learn about New York history, but he was unfamiliar with southern history until he moved to South Carolina in 1990 to attend Coastal Carolina University, where he would go on to receive a minor in archaeology.
"I took an archaeology class as an elective and then I really got interested in local history," he said. "They were digging on the rice plantations and slave quarters and all that."
He began to focus on writing in graduate school at Winthrop University, where he earned a Master of Arts degree in American History.
"They kept pounding in our head that you have to publish," he said. "So, I started publishing articles in both the newspaper and also magazines."
He worked as an education director at the Georgetown Rice Museum before going into teaching. During this time, Mr. Boyle had an unpublished master's thesis that included narratives of enslaved people from Horry and Georgetown. The director of the museum asked him to edit them to be published on the museum's webpage. 
"That was really my first book, but that's a self published book… because there's no real editor and editorial staff," Mr. Boyle said.
All of Mr. Boyle's books focus on plantation life in the Horry and Georgetown Low Country areas. When he starts a new project, he usually begins with looking at archived papers, but he also focuses on newspapers.
He says when he wrote the book The Road to Secession in Antebellum Georgetown and Horry Districts, published in 2017, he "simply took all the main events that were taking place on the national scale, and looked at the way Georgetown and Horry reacted to those main events through their newspapers."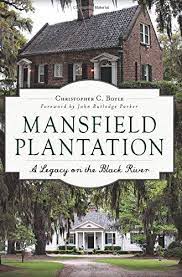 His book Mansfield Plantation: A Legacy on the Black River, published in 2014, explores the history of the Mansfield Plantation, located north of Georgetown. Mr. Boyle's fascination with the Mansfield Plantation started when he worked on its archaeological survey while attending graduate school. With the suggestion from his professor, he published the history of the plantation in their archaeological survey booklet.
"I had a lot of questions and I had far more interest as time went on…I was just driven toward the place," Mr. Boyle said.
When John Parker, the great grandson of the original owner, bought the plantation in 2004, he put together a board of directors for Mansfield and asked Mr. Boyle to serve as the historian on that body. This allowed Mr. Boyle to continue cataloging and collecting history on the three hundred-year-old plantation.
"It just grew and grew and grew, until it was a 200 page book," he said.
Mr. Boyle donates all the proceeds raised from the book to the restoration of the slave village. He also has been taking students to the Mansfield Plantation since 1999. He gives students a lesson about its history, and they clean up the cemetery together. 
"[The plantation] just sums up the whole Antebellum time period. It's an opportunity for students to see and touch and really connect with the Antebellum period," he said.
Mr. Boyle plans to write his next book about an Episcopalian preacher who lived in Pawleys Island in the 1800s and preached in thirteen different chapels that had admission for enslaved people. He said it is interesting to read the sermons and see what he preached and what he didn't preach to enslaved people in the 1840s and 1850s.
"He doesn't teach about Exodus, of course, because that's about the Israelites freeing themselves from slavery in Egypt," Mr.Boyle said. "He talks about being obedient on Earth to both your physical master, as well as God. So to get to equality, be a good servant. That's a lesson that supports the plantation system."
Mr. Boyle said he never tires of learning about the history that helped shape the world today and the people that live in it, because the past allows us to get a good idea of humanity and how people want the same things every generation.
 "We want to raise our children and protect them. We all want to live in as much comfort as we can. These are themes that we see recurring, no matter what," he said. "It's governments that cause problems, and it's governments that cause war, and men that are forced to fight it."
Leave a Comment
About the Contributor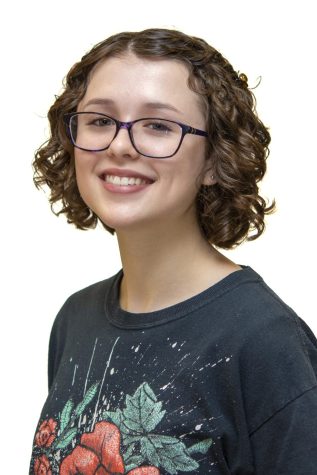 Rebecca Norton-Baker, Staff Writer
Rebecca is a junior who is taking yearbook for the first time. She joined yearbook because a friend recommended it and she thought it would be a great...