Athletes Sign with Colleges
Senior student athletes Hayden Johnson, Nora Carroll, and Kylie McWhorter came together at an athletic signing day Nov. 10 to take the next step in their college careers.  
Hayden Johnson, who signed to play baseball at Coastal Carolina, has been a pitcher on the varsity baseball team since 10th grade. His first year on varsity was hard for him due to an injury. 
"The biggest challenge I have faced was getting Tommy John surgery in my 10th grade year," he said. "It caused me not to be able to pitch for over 16 months."
Throughout the setback, Hayden continued to work hard  to recover with the support of his family, coaches, and teammates.
"I never really had a doubt that I would play because I knew if I worked hard enough, I could achieve my goals of playing college baseball," he said.
Now that his hard work and dedication has paid off, he is most looking forward to "playing in front of all the fans and being able to make memories and friends while playing the game I love." 
Nora Carroll, who attends AAST, signed with West Virginia Wesleyan. She has been on varsity volleyball for four years, but has been playing for seven total. Nora is nervous about being far from home, but she is excited to be taking this next step. 
"My favorite part about West Virginia Wesleyan is the community I am walking into," she said. "WVWC is an extremely close knit community with people from all across the world."
She also had to push through a lot.
"I went through a lot of rejection leading up to this," she said, "whether it was other schools or just in volleyball over all my years of playing. I didn't let it get me down and I kept pushing myself to get to the next level." 
Although Nora does not plan to continue playing professionally after college, she does want to play recreationally because she loves the sport. 
Lastly, Kylie McWhorter will be playing lacrosse at Averett University. She has been a part of the varsity lacrosse team for two years. 
She began her recruiting process about a year ago and stated, "My teammates and coaches have been amazing through this process by encouraging me at practices and putting in extra hours after practice with me."
This encouragement pushed her to achieve her goal of playing in college. She knew that Averett University was the place for her because she loved the small campus and the amazing athletic facilities that they have to offer. She also said that all the coaches and teammates were "extremely nice and welcoming".
Leave a Comment
About the Writer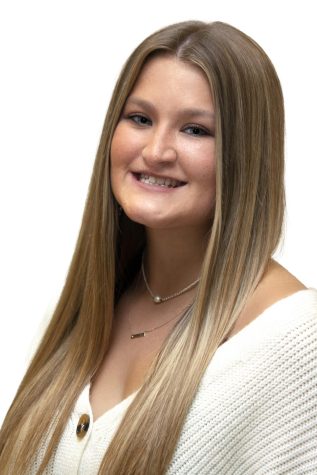 Emma Dugan, Staff Writer
Emma is a senior who was part of the yearbook staff in middle school. She joined yearbook because she loves taking pictures and loves being involved in...