Halloween Ends Brings Closure to Scary Series
The new Halloween movie Halloween Ends came out October 14. This is the 13th and final Halloween  movie in the series that Blumhouse produces. The movie will be most interesting for people who fully understand The Halloween movie series, bringing them closure. 
The theme of the Halloween Kills is revenge and forgiveness. Laurie Strode (Jamie Lee Curtis) has been dealing with Michael Myers for over 40 years of him trying to kill her and the people closest to her, and she has to decide if she's going to let him go, and forgive him and herself for everything that happened over the years. Four years after her last encounter with Myers, Laurie and her granddaughter Allyson (Andi Matichak) are living together peacefully. Laurie finally embraces her life fighting this evil by writing a memoir. But when a young man gets accused of murdering a kid he was babysitting, new evil is brought on with the old. 
Curtis plays Laurie Strode, using the right tone in her voice when talking, the right facial expressions or even just making the fighting movements believable. Matichak played Laurie's granddaughter in  Halloween Kills and now is more of a main character. The viewer also can really see the emotions she's trying to put out with her facial expressions and the tone of her voice. James Jude Courtney, who has played Michael Myers for the last three movies, is creepy as ever, whether using his iconic head tilt or grabbing his victims by the throat. Rohan Campbell plays a newer psychopath in the series, Corey Cunningham, unbelievably well; how he talks and his facial expressions when he smiles are on point. He is a great add to the plot. 
Most  of the actors in the movie had a stunt double, but Curtis didn't want one for the fight scene. Her stunt double only did two stunts, and the rest were all Jamie. She  wanted it to be all her for her final faceoff against Michael Myers, insisting she do a scene where her face is smashed into a glass cabinet.
"That stunt was her idea. I was reluctant — if not trying to forbid it — but it happened and it looks great," Director David Gordon Green told Insider.
The music and sound effects matched  up perfectly with what was happening, giving off that "jump scare" feeling. The cinematography by Michael Simmonds (Halloween,  Nerve, The Lunchbox) creates a dark feeling with lighting. Sometimes it would get a little too dark, but that's what gave it the horror movie look. 
Overall, the movie is very well put together with a solid plot and strong acting, based in today's times. But it's really for diehard Halloween fans who understand the Michael Myers timeline and have been watching these movies for years.
Leave a Comment
About the Contributor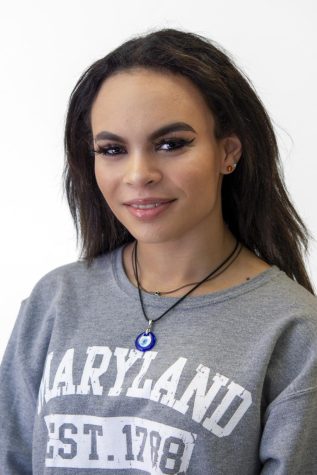 Ashley Curtis, Staff Writer
Ashley is a freshman who became apart of journalism because she wanted a place to express other peoples' voices on issues going on around the school. Ashley...