Stricter Cell Phone Policy Receives Mixed Reviews from Students, Staff
At the beginning of this school year, the students were met with a stricter set of rules for phones and wireless earbuds. Administration says the policy is needed to help students focus more, especially after COVID. But students are having a hard time adjusting to the new rules.
The new policy declares that no phones or wireless earbuds may be used during the school day, except during class changes and lunch. 
"Cell phone and earbud usage had gotten out of control," Socastee Principal Jeremy Rich said. "This motivated the administrative team along with a group of teachers to implement a new policy."
Many teachers support the new policy, but still have mixed feelings about how successful it will be.
"I think it could help," Psychology teacher Shannon Bogart-Rowan said, " but at the same time, I'm not really sure." 
She said the policy takes more of her class and prep time to enforce because she has to monitor classes more closely and call parents when she catches students with phones or earbuds.
"It takes away from instructional time," she said.
The policy states that students caught with a phone or wireless earbuds out during class first get a teacher warning and parents are informed. The second time, teachers refer the student to administration and they receive a detention. The third time, students receive ISS, and the fourth time they can get an outside suspension.
Sophermore Aydan Layton understands the reason for the stricter policy.
  "It makes students pay more attention in class," he said. "Their phones can't be used, so all they have to do is pay attention."
Junior Lyla Gordon also understands the administration's motivation but thinks phones should be allowed in classrooms at least some of the time, especially because students' school-issued laptops are not always reliable.
"These new computers have been having a lot of trouble lately," she said. "I have known many people that have had to go days without a computer and this is difficult because many of the things we do are digital."
Lyla also does not agree with the ban of wireless earbuds.
"For some people, it helps them to focus if they listen to music, which most people keep their playlists on – things like Spotify or Apple Music on their phones," she said. 
The policy does allow students to use earbuds that have a wire that connects to their laptop, so students can listen to academic videos. And some teachers still allow students to listen to music if it helps them focus while working.
"I know that many students work well with white noise or with music that's in the background," said Mrs. Donna Mitchell, who sometimes lets students in her English class put wire-connected earbuds in.
However, she does not think students should have their phones out and sees the need for the new policy. 
"Too many people are addicted to their phones," she said, "and if they're not addicted, they're just constantly interrupted. Their trains of thought are constantly interrupted." 
Nathan Victoria Brown doesn't like the phone policy and calls it "stupid." 
"What's hard about it is that you can't use your phone, plus the WiFi here s–ks," he said.
 However, he does agree that students have a hard time focusing when phones are allowed.
"To be honest, I can't blame the teachers because you know, we'd be on [our phone] 24/7," Nathan said.
Teachers have different ways of enforcing the cell phone policy.
"I glare at them fiercely with my eyes," Mrs. Mitchell said. She also calls home when she catches a student with a phone.
Assistant Principal Mrs. Mia Toomer said she also has heard of teachers putting a "lock box" in the middle of the table.
"Students can put their devices in an actual box, so it's put away but it's still there at the same time," she said.
Mrs. Toomer said she understands enforcing the cell phone policy can be difficult, but it's important the school set the expectation that phones should be put away.
"We have that as a school policy, an expectation, so that it ultimately makes our classrooms more successful and our students more successful," she said.
Kaleigh Menefree contributed to this story
Leave a Comment
About the Contributor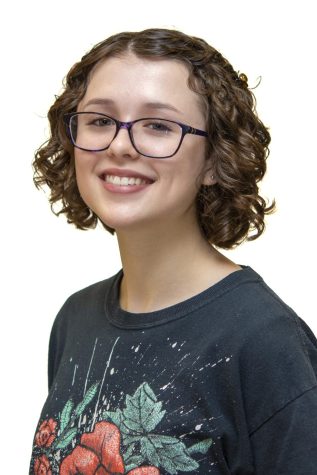 Rebecca Norton-Baker, Staff Writer
Rebecca is a junior who is taking yearbook for the first time. She joined yearbook because a friend recommended it and she thought it would be a great...