Students Uncover Peculiar Pollutants at Beach Sweeps
Cigarette butts, fireworks, vape pods, plastic beach shovels, bottle caps, a dirty sock, a deflated rubber balloon, and even a bag of dead fish.
These were among the items found by students who have participated in local beach sweeps this year. The first beach sweep was on August 31 at Springmaid Pier and sponsored by the Ocean Club.  The other beach cleanup was on September 17 at Ocean Lakes and sponsored by the IB Program.
Ocean Club students collected 14 bags of trash within a span of one mile, said Marine Science Teacher and Ocean Club Adviser Mr. Jared Hendrix. He has been on more than 30 beach sweeps over the last 15 years and said that students have found all kinds of interesting things. 
"We did one about three years ago at Waities island and we found two human leg bones," he said. "It is assumed that it was someone who drowned there a year or two prior, but we're not positive."
Ocean Club member Alysia Bellamy, a senior, found several plastic bottles, Ziploc bags, chip bags, and a pair of new sunglasses (which she gifted to her friend). The worst thing she found was a bag of dead fish. "It smelled horrible," she said.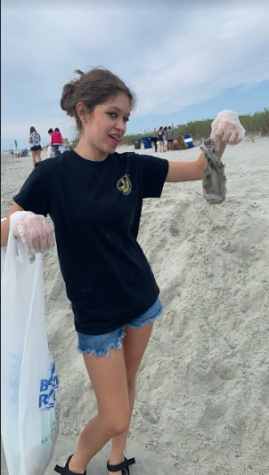 Science teacher Mr. Shannon Stone organized the beach cleanup at Ocean Lakes. He has done cleanups for more than 25 years and is inspired by the students who show up.
"I like when I go down to the beach and see everyone pick up trash," he said. "Everyone is smiling and doing a great job of picking up things. They found a lot of trash, and it indicates to me that they did a very good job."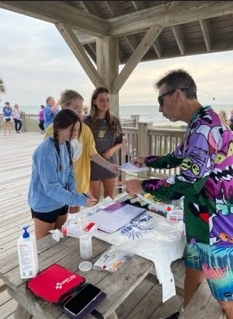 "Students last year found over 23,000 cigarette butts in three hours," he said. Everything that is picked is recorded for the International Coastal Cleanup database. 
"We found dead fish, dead seagulls, and pigeons," he said.
Key Club member Rebecca Norton-Baker, a junior, and her four friends picked up over 1,000 cigarette butts within two hours at the beach cleanup. 
"I would do a beach sweep again because it was a global thing," she said. 
Senior and Key Club president Alexis Harris was at the Ocean Lakes beach sweep. This was her second one. While it's a lot of work, it's also a lot of fun, she said.
"I would recommend doing beach sweeps as a great way of gaining community service hours," she said. "Although it seems like a chore to most, it is a very fun way to hang out with friends and help the environment."
Leave a Comment
About the Contributor
Rachel Lukas, Staff Writer
Rachel Lukas is a sophomore who has been a part of journalism and the yearbook staff for two years. Rachel decided to join the yearbook because she believes...