Seniors Say Goodbye With a Song
 Show Choir's last show for the year was a real tearjerker. 
In addition to emotional songs sung by the whole choir, such as "True Colors" and Broadway hits like "Seize the Day" from Newsies, each senior had a 'senior moment' where they sang part of a song that is special to them.
Devin Breese chose "The Climb" by Miley Cyrus. 
"I chose this song because it was my mom's favorite song that we used to sing growing up," he said. "Anytime I look back on life, when things get hard, you gotta take things one thing at a time, and that describes my time in this program, that things get hard but you will get through it – and I want to pass that on to the underclassmen to let them know that it is going to be okay."
Hunter Hyatt chose the song "Funny" from City of Angels because "my friend told me to pick it and because I wanted to do something big and fun for my last performance".
Hannah Hewaij sang "I Will Always Remember You" by Miley Cirus.
"It expresses growth and coming of age very well," she said. "I wanted to express to the underclassmen…how many great memories from this program and how much I learned."
Jada Simmons chose "Brave" by Sara Berelis.
"That was the first ever song I sang on stage, and I wanted to have a full-circle moment."
Leave a Comment
About the Writer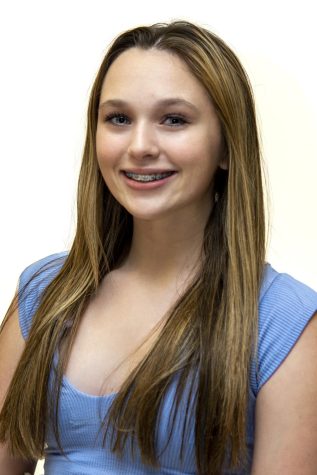 Emma Cartner, Staff Writer
Emma Cartner is a junior who was a part of the yearbook in middle school, took journalism her freshman year, and has been a part of our Yearbook/Newspaper...