Long-Term Sub Brings Theatre Passion, Skills to Socastee
New Drama teacher Ms. Rachel DelVecchio comes to Socastee from Pennsylvania, where she developed a love of theater as a teen, then later gained a lot of experience working with youth theater.
Ms. DelVecchio has been at the school as a long-term substitute since November, teaching three Theater I classes. She also was the Technical Producer of the one-act play Tracks, which won many state awards, and the spring musical The Drowsy Chaperone.
"I absolutely love that I have the opportunity to jump right in and work on projects," she said. "I am able to help students grow and learn more about the art of theatre."
Born and raised in Bethlehem, Pennsylvania, Ms. DelVecchio has been doing theater since her high school years.
"On my first day of choir, they announced the fall musical auditions," she said. "I was one of four freshmen to make the cast and the rest is history."
Her love for the theater led her to choose it as a career goal.
  "I graduated from Bloomsburg University with a degree in Integrated Theatre Arts," she said, "then I decided to get my Master's Degree in Theatre from Villanova University."
After Villanova, Ms. DelVecchio worked as the Asst. Production Manager and Technical Director for the Pennsylvania Youth Theatre in Bethlehem.  
She then came down to Myrtle Beach and worked as a Technical Teacher with Myrtle Beach ACT. During that time, she wrote emails to all of the high schools in the area, offering to volunteer for their theater program. 
"The only high school teacher to respond was Ms. Beaudry," she said. "She asked me to come on board for their spring musical as a volunteer."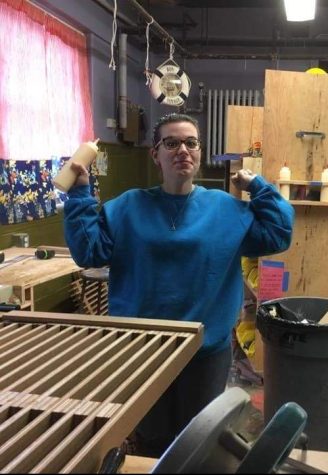 They met at auditions in November and worked very well together. 
"She then asked if I wanted to teach the theater courses at Socastee," Ms. DelVecchio said. "This is when I applied to become the long-term sub."
Since Ms.DelVecchio has joined, she has helped many students in class and on stage. Senior Devin Breese is someone who enjoys having Ms.DelVecchio's help and experience. Devin played a corrupt businessman in Tracks and the butler in The Drowsy Chaperone.
"As a student, she has been someone I can always ask for advice or someone to talk to at any time I need," he said. "Her work with me as an actor helped me achieve what I wanted with my performance in Tracks at competition in Memphis Tennessee and the musical The Drowsy Chaperone." 
Freshman Jianna Bazzano worked under Mrs. DelVecchio as a tech crew member for The Drowsy Chaperone.
"Ms. DelVecchio helped me realize how important tech is to a production and while on the tech crew she taught me new things about how to make a show better" she said.
Jianna also is a student in Ms. DelVecchio's Drama I class.
"I love her class because it's helped me become a more social person," she said, "and she helped me see how much I enjoy theater."
Ms. DelVecchio said that is her goal as a teacher, "to keep introducing students to theater and changing their minds about the art form." 
She also wants them to develop the kind of communication and technical skills that can help students in all areas of life.
"Theater can be used in so many ways outside of the art form," she said.  "I want students to learn and be able to use these skills every day."
Leave a Comment