Seniors Head to 'Happiest Place on Earth'
For the first time in two years, Socastee Seniors are Disneybound! 
Seniors are on their Senioritis trip to Disneyland and Universal Studios tonight through May 1. The trip includes two days at Walt Disney World and one full day at Universal Studios and Islands of Adventure. Around 100 seniors are going on this trip, along with six chaperones. 
Science teacher Mr. Greg French, who has been doing this trip since 2001, is extra thrilled because this is the first trip since the beginning of the COVID-19 pandemic. 
"All the parks have changed," Mr. French said. "It's like 10 new rides that we haven't been to."
English teacher Mrs. Amanda Urbaniak, who will also be chaperoning, is very excited for the new Star Wars ride, Star Wars: Rise of the Resistance, at Hollywood studios. 
"I am a big Star Wars fan," she said. 
This year will be different from past trips, and the students and faculty will have to adapt to some COVID restrictions still in place. Disney is requesting each individual to provide proof of vaccination or a negative test within 72 hours of reaching the park. The parks also will have limited occupancy. 
"Rules have changed and guidelines need to be followed," Mrs. Urbaniak said. 
Despite the new restrictions, the students are given a lot of freedom on the trip. The seniors will be on their own in two months once graduating high school, Mr. French said, and they are expected to be able to handle that responsibility. They will be allowed to roam whichever part of the parks they want from 7 a.m. to 1 a.m. each day. 
"They're on their own. Just go go. Have fun. Go. Be you," Mr. French said. "It's a good test for them to go out and be adults, make adult decisions."
Displaying that maturity, Senior Emma Latham said she has already made a schedule with her friends of the attractions they must see. Using time management skills, they will adapt their schedule based on the rides' wait times. 
"We want to make sure we do as much as possible," Emma said. 
The senior trip also provides an opportunity for teachers to see their students outside of the school environment. 
"I am most excited for the experience, being able to be with my students outside of the academic sphere, and having fun with them," Mrs. Urbaniak said. "Most of the students attending I have had the pleasure to have in class or been acquainted with, and I am excited to spend time with all of them."
Students and teachers will have access to the numerous parks in Disney, along with Downtown Disney, and Universal Studios. Senior Shelby King said this will be her first time going to Disney.
"I am beyond excited to have this experience with my friends and favorite teachers!" she said.
 She is most excited to see Mickey Mouse and to visit the Magic Kingdom. 
"I can't wait to ride the roller coasters!"
Emma Latham also is most excited to visit Magic Kingdom.
"I love fairy tales and Magic Kingdom does a really good job of capturing the magic and making you feel like you're in a Disney movie," she said. "It also has some of my favorite rides and treats."
She has been to Disney numerous times before and said she is most excited to see Anna from Disney's movie Frozen again. 
Emma is one of a number of seniors on the trip who are part of the Socastee Singers, and they will be staying in Disney a few extra days to perform at the park. 
The singers will perform on Saturday with a set of six songs that they have been working on this semester. Then, they will be going to all four parks after to celebrate.
Leave a Comment
About the Contributor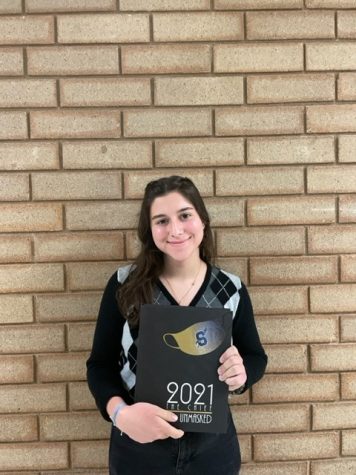 Vanessa Alaimo, Staff Writer
Vanessa is a senior who joined Yearbook/Newspaper last year. She has always loved photography and writing and was looking for a way to use these skills...