OPINION: It's Time to Return to Regular Book Bags
Socastee, like all Horry County middle and high schools, switched to clear book bags in fall 2020 amidst the COVID crisis, so that teachers would not have to touch bags during security checks. This year, all schools except Socastee and its feeder schools ended the policy as COVID subsided. Socastee should join the rest of the county and switch back to regular book bags.
First, the clear bags rip and are costly. After daily wear, sitting in the heat, and holding a lot of weight, the plastic that the clear book bag is made out of rips extremely easily. They are also not cheap; they range from $20-90, which doesn't sound too bad until students have to keep buying more throughout the year when normal book bags can last years. I have gone through three bags just this year.
Second, the clear bags are supposed to prevent staff from having to search through bags and stop students from bringing in drugs or weapons. However, they don't. Even with the clear bags, staff still goes through every inch of students' bags in the morning and students are continuing to get caught daily with drugs, vapes, or items that could be considered weapons. Some days, I've been late to class because I had to wait 10-15 minutes in the security line.
Finally, the clear bags are an invasion of privacy. When girls have feminine products, guys sometimes make comments about seeing them in the backpacks. Or, if someone has clothes for an after-school event or activity, including undergarments, anyone can see them. Also, students might have different objects, such fidgets or toys, that are a comfort for them, but others may make fun of them when they see them.
Principal Mr. Jeremy Rich says the school decided to keep the clear backpacks because they make security checks easier. However, the privacy and cost issues for students should outweigh the benefit of making searches simpler. Mr. Rich said the administration "will take a look at the policy over summer, like all other policies, and make a decision from there for the next school year."
Let's hope they choose to return to normal backpacks. Socastee students deserve to be able to pick a backpack that is less costly, more private and gives them more freedom of choice — especially after so many COVID restrictions.
Leave a Comment
About the Contributor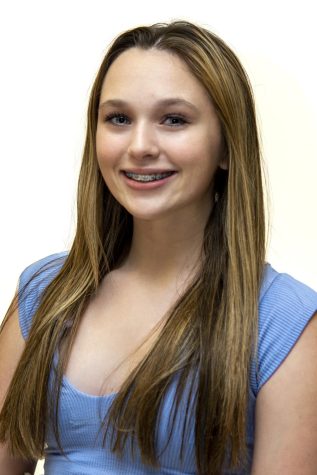 Emma Cartner, Staff Writer
Emma Cartner is a junior who was a part of the yearbook in middle school, took journalism her freshman year, and has been a part of our Yearbook/Newspaper...