Sophomore on Track to Take National Dirt Bike Title
Sitting in class, sophomore Nick DeFeo doesn't really stand out. He is a typical 16-year-old, just trying to get through the school day like anyone else.
But outside school on the dirt bike trail, Nick DeFeo is known as "T-Rex" and is one of the top youth dirt bike racers in the country. He was the overall champion in the GNCC youth dirt bike (YXC1) series in 2020, and has won the first four races of the 13-race series this year. 
He already is earning money from winning races and has a couple of brand-name deals, but his ultimate goal is to become a professional XC1 racer, where he can earn a lot more.
"Hopefully, I'll be able to [get there] there in a few years," he said. "The money motivates me."
Nick started out racing dirt bikes because his dad used to ride, and Nick thought it looked cool and wanted to give it a try. 
"I got [a racing bike] for my birthday when I was 3, and I've been riding ever since," he said. 
Before every race to prepare himself, Nick eats a chocolate muffin that gives him energy. The race takes about an hour and a half. The course is 7 miles, and racers maneuver the course six times. Nick also works out during the week to get in shape for his races. 
"Dirt bike racing takes a lot of core strength to keep the bike up and stable while going around twists and turns, and even my other competitors," he said.  
A normal week for Nick consists of Monday rest days for him to "chill out" and complete any school work after an entire weekend of racing. Tuesday through Thursday, he works out in the gym or goes to Battery Park to practice on an actual track for 30 minutes of full-intensity riding, and on Fridays Nick and his family travel to weekend races.
In his last GNCC, the race was especially harrowing because he lost his brakes halfway through.
"My brake pedal fell off," he said. He and his mechanic considered stopping to fix it, "but I just kept going."
The sport is dangerous and T-Rex has suffered a lot of injuries.
"I've broken my femur, my wrists, my ankle and my collarbone could be broken as we speak," he said.
But Nick doesn't think about the possibility of getting hurt while riding.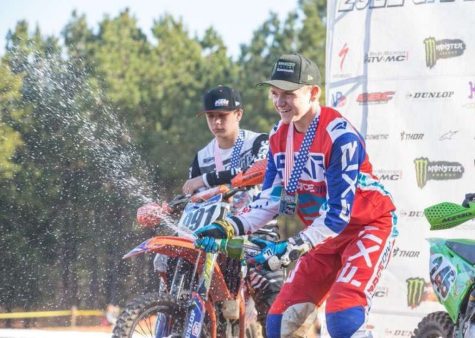 "I don't worry too much about the risks," he said.
In fact, he finds the focus that riding requires enjoyable.
"When you're riding it's really quiet and your mind is almost blank," he said. "While I'm racing, I don't have to think or worry about anything."
Leave a Comment
About the Contributor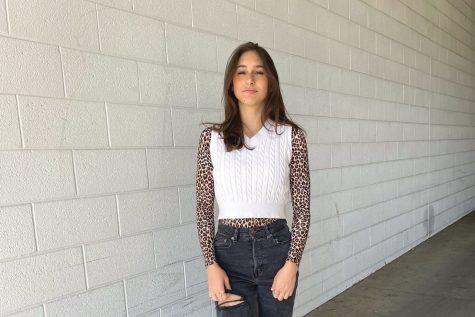 Callie McNelis, Staff Writer
Callie McNelis is a sophomore who joined Yearbook/Newspaper to showcase her sports pictures and incorporate her creative writing skills. Callie loves writing,...