Return to Regular Prom Inspires Romance
After two years without a normal prom, students are extra excited for this year's "Night at the Riviera".
There was no prom in 2020 due to COVID, and last year prom was held in the school gym for seniors only. This year, it will be open to Juniors and Seniors at Pine Lakes Country Club Prom on April 8 from 7 to 11 pm. Around 400 students are expected to attend.
"I am excited to boogie! I'm ready to get down!" Senior Daniel Jenkins said. 
Leading up to the big event, Socastee students have been promposing to their dates. These promposals have hearts fluttering. 
Senior Dean Breese brought flowers and a sign when he went to watch the sunrise with his girlfriend, Junior Catie Lovelace, who is on Socastee Varsity Softball team. While there, he promposed with a sign that read, "Catie, you have already stolen my heart, sure would be a home run to take you to prom. XO."
Junior Hayden Marks also promposed to a softball player, Sophomore Randi Utley. She is No. 2 on the Socastee Junior Varsity Softball team, and Hayden's sign read, "Hey #2! You're a catch!" He then presented to her a softball that read, "Prom?"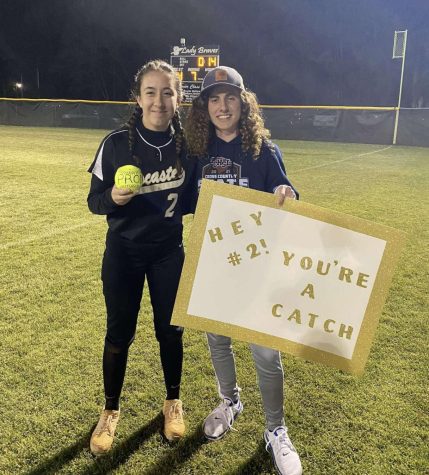 Senior Devin Breese took a sentimental approach by incorporating all of his boyfriend's favorite songs into his poster. To name one, the SZA song "Good Days." He explained that each song was of importance in Joe's life.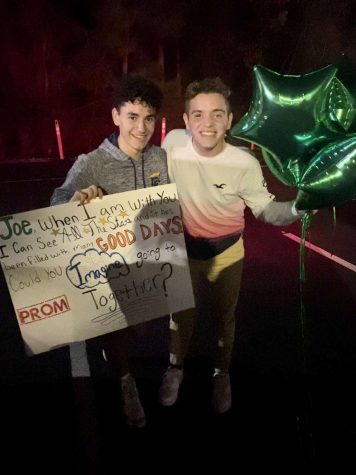 Junior Mac Malambri also took a musical approach with his promposal to Sophomore Maddie Mayhew. The sign read, "Fill the Blank Space and be my date to prom." The sign is a reference to Maddie's favorite artist, Taylor Swift's song "Blank Space", he said.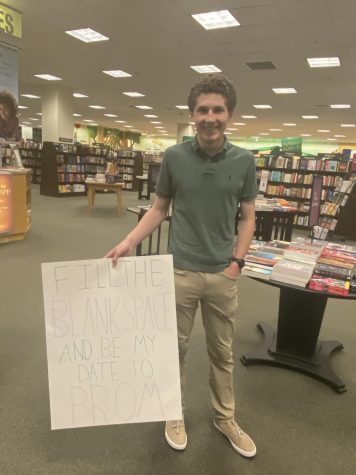 Besides these couples, friends are also promposing to each other. Senior Landon Trenkamp has Anatomy and Physiology with Junior Gifty Coleman, and he gave her a sign that read, "It's going tibia fun time…prom?"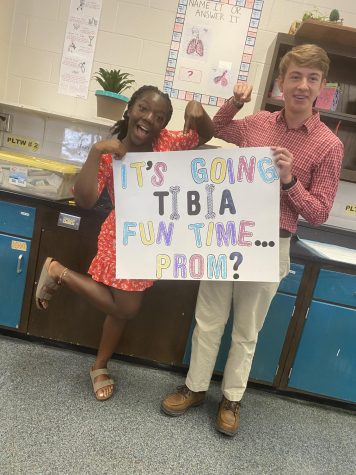 A majority of students are going to prom with dates, according to a sample study, but a good number are going with a group of people. In a survey of 70 students, 54% of the upperclassmen said they are going with dates, 36% are going in groups, and 10% of students said they will be going alone. 
Senior Leslie Padron-Cano is going with her friend group and she is excited to "take cute pictures and create memories with my friends!" 
Senior Emma Latham is also excited to be with her friends.
"I really enjoy dances, getting dressed up, going out to dinner, hanging out afterwards with my best friends," she said. "It's just a fun experience overall."
Emma said after the recent pandemic she is excited for a normal dance without restrictions, where she can focus on making memories.
"This is something that I get to do that's an actual normal high school thing after all of the things that have happened that aren't typical for someone our age to go through." 
View Comments (1)
About the Contributor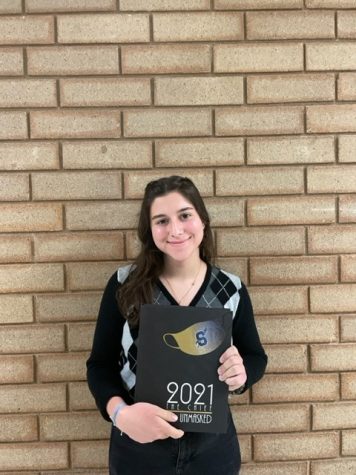 Vanessa Alaimo, Staff Writer
Vanessa is a senior who joined Yearbook/Newspaper last year. She has always loved photography and writing and was looking for a way to use these skills...