Cross Country Team Clears On-Site Running Path
On Tuesday, Sept. 28, me and members of the SHS Cross Country team left their classes and entered the woods behind Socastee High School. 
Tools in hand, we took on "Operation Greenpath" — an ambitious project to clear a running path in the woods behind the school. In a little over two hours, years of unmanaged grasses, weeds, and trees were cleared from a path that the team now uses to train.
The path has been restored to something much closer to the 200-meter path it was when Senior Evan Olzschevski was a freshman. 
"The woods back then were very open. They weren't very grown in," Evan said. "They had a lot of worn-in trails, some shortcuts that were not quite developed yet, but you could see that they were [emerging], and some paths that have slowly disappeared." 
"
Together we can move a bridge
Together we can clear a forest
Together we can win a race
Any way, we are victorious"
— Mac Malambri
He said three people could fit comfortably in some sections. "The bridges were nice and the scenery was good," he said, "overall a pleasant experience." 
 Evan was the main force in deciding to restore the woods to the condition of his freshman year. After he and I got administrative approval for the project, we coordinated what came to be known as Operation Greenpath.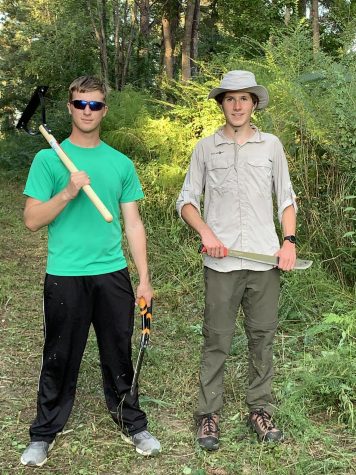 After being delayed due to weather, the team hit the trail one Tuesday in September. Using clippers, hoe, machete, weed wacker, or rake, everyone contributed something over two and a half hours of hard work.
Evan described his role as "[getting] morale up as [people] were arriving" and I did a lot of the behind-the-scenes work. After dividing into two squads that went to opposite sides of the most overgrown trail, we began clearing it. 
 "Machetes were upfront, clearing the way, getting things out of the way so that we could walk," Evan said. "We then had clippers behind them to take the branches out of the way. And behind them were rakes. There was a floor clearing tool as well."
By the end, the same woods that hours before had been covered in weeds, grasses, and saplings, were now clear enough to run on. While the trail can still be widened and weeded, the goal was accomplished.
Devouring the pizza that Cross Country Coach Melko so kindly provided, Evan reflected. 
"We as the community united to tackle this gargantuan problem in front of us — an insurmountable task," he said. "It's proof that even though our generation faces many insurmountable problems -– like climate change and inequality –- together we can unite and stop them."
Leave a Comment
About the Writer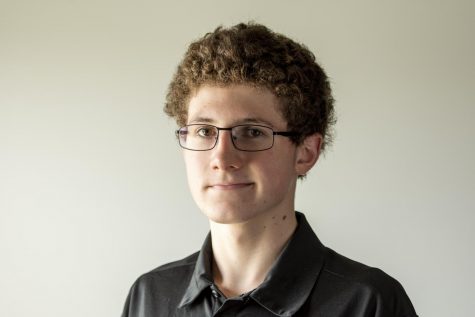 Mac Malambri, Guest Columnist
Mac Malambri is a pre-IB sophomore who loves politics, economics, and philosophy. "I have more opinions than are appropriate. Accordingly, I write a monthly...