Teacher Enjoys Helping Those with Special Needs
New teacher Chris Bonanny said the joy of being able to help students with special needs is what drew him to the teaching profession. 
"Once I started learning about special education and the importance of advocating for people who may otherwise not have a voice for them, I realized that it was something that I'm very passionate about and something that I really enjoyed doing," he said.
In his role as a Special Education Teacher at Socastee, Mr. Bonanny helps co-teach a class, Intermediate Algebra, this semester. Next semester, he'll co-teach Foundations of Algebra and Geometry.
"I help with teaching, grading, make sure accommodations are being met, and providing additional support to students," he said.
He also teaches one class of his own, Literacy and Numeracy, which is a class that allows students who need extra help stay on top of their other classes.
"It's essentially a learning strategies class or an organizational skills class," he said.
Bonanny said he likes to act like more of a guide in the classroom than a lecturer. 
"I float around the class to make sure everyone is on task," he said. He likes to give projects as high grades.
He decided to start teaching in college at Shippensburg in Pennsylvania, which offered dual-degree to work in both elementary and special education teacher work. 
  In college, he was a substitute at a school district in Pennsylvania, then completed his student teaching as a teacher's assistant in Rockingham North Carolina. 
He has been teaching for two years and currently attends Coastal Carolina as a graduate student. Last year was his first official teaching job in Georgetown County at Maryville elementary school. He said he had fewer students but they had more intensive needs. 
"That was a very challenging job," he said, "both in terms of planning, and in terms of mental health."
He found his way to South Carolina from Pennsylvania due to liking the weather and the accessibility of it all. 
"I'd actually come down to South Carolina a few times before I decided to move," he said. "I subleased student housing at Coastal Carolina for a couple summers with my partner, and we really liked the area. It was very affordable, very warm, very beautiful. And so we decided that this is the place that you wanted to move to."
In his spare time, he said he likes to exercise, cook, play video games, and go on walks.
"I like a variety of hobbies," he said.
Leave a Comment
About the Contributor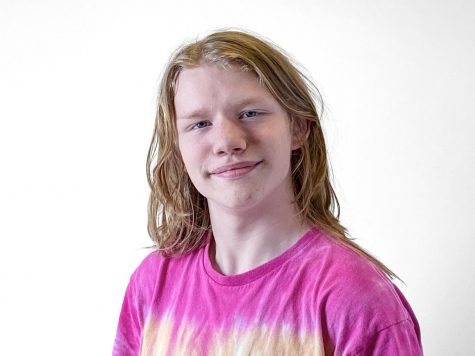 Gage Campbell, Staff Writer
Gage Campbell is a freshman in socastee high school with a love for writing -- fiction or nonfiction. He joined journalism this year since he was curious...