Junior Wins State Tennis Championship
After winning a team state championship last year, Junior Brooke Rogers won the individual state 5A/4A State Championship November 9. 
She won 6-2, 6-3 against Emily Ruckno from Hilton Head Island.
Brooke said it was as exciting as winning the state championship but there was more pressure.
"It was all on me," Brooke said. "There was a lot more pressure on me because I was by myself." 
Brooke is the No. 1 Singles Player for Socastee (which means she plays against the No. 1 of other teams they play). She has been playing tennis for a  long time and plans to keep playing. 
"I first started when I was five, and I just tried a summer camp at Prestwick and I really liked it," Brooke said. "I…have just kept playing because it keeps me going and is something that I look forward to every day." 
Brooke also plays in tournament matches outside of school and participates in the U.S. Tennis Association year round.  
"High school matches are a lot more fun than tournament matches because I have the team to cheer me on and everything," Brooke said. 
This season was extra exciting because of the attention the team was still getting from winning the state championship. 
"There's definitely more people now and a big crowd," she said. 
However, there were challenges, most notably that the team lost Elena Hartley, a key member of the state championship team who decided not to play this year. Sophomore Cassidy Cocca stepped into the No. 2 spot.
"It is kind of more pressure on me and Cassidy," Brooke said. "It is just more stressful."
Even through the challenges of losing their number two, Brooke is good at keeping her cool, Tennis Coach Mr. Jason Williams said. It's one of the ways she has improved a lot since she first joined the team and how she is a real leader on the team. 
"Her mental state is better and maturity level has improved, and things that used to bother her don't bother her anymore," Coach Williams said. "She leads a lot by example on how she plays, and other kids watch her and see she strives for her best and that makes other kids want the same."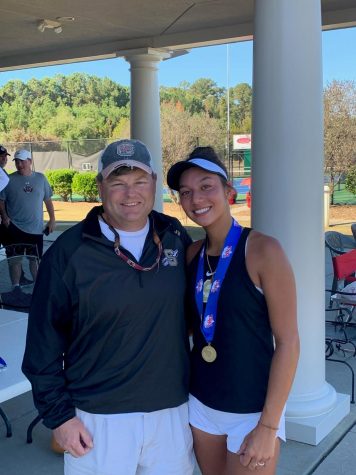 Teammate Emma Dugan agrees.
"She is a really great leader on the team and she's always willing to help out anyone," she said. "She always makes practices and matches super fun."
Brooke wants to continue her tennis career as long as possible and hopefully coach others. 
 "I am hoping to play Division 1 tennis somewhere around the Southeast," Brooke said. "I also hope to coach junior players once my tennis career is over."
View Comments (1)
About the Contributor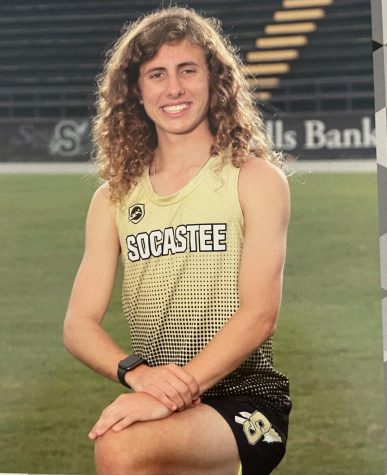 Hayden Marks, Staff Writer
Hayden Marks is a junior who was part of the yearbook staff in middle school and has a passion for taking pictures. Outside of school, he spends time working...