REVIEW: The Andy Griffith Show Takes Viewers Back to a Gentler Time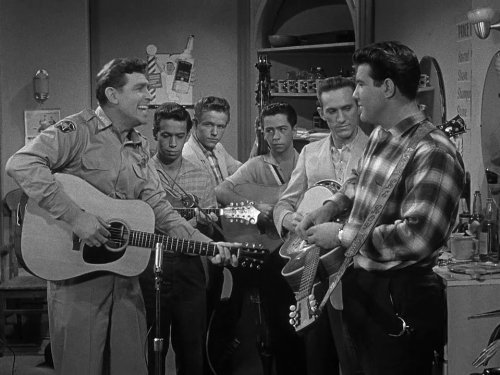 Many interesting characters reside in Mayberry, the fictional town in The Andy Griffith Show. There's the barber, Floyd, the town drunkard, Otis; and that one British guy who comes to town on his bike, Malcom. Everyone knows everyone in Mayberry, and  the sheriff is the most popular guy in town. This is a real contrast to today's world where people go about their own lives glued to screens, ignoring people around them, and mistrusting the law.  The Andy Griffith Show, which still airs on TV Land, provides a much needed respite from today's harsh world.
It takes place in the fictional town of Mayberry, North Carolina. The show was recorded in the 1960s, partly in Mount Airy, North Carolina, and partly in Hollywood studios. Directed by Howard Morris, the show perfectly depicts the life of a small-town sheriff named Andy Taylor. Played by Andy Griffith, this "little" hero has stopped bank robberies once or twice, but his day-to-day shift consists of helping neighbors with chores and groceries, and making sure his son, Opie, does his arithmetic.
The show presents the audience with scenes that aren't moving by the New York minute. The characters show all sorts of emotion – joy, sadness, love, anger, and everything in between.
The show creates an idea that not everything has to happen quickly. Anyone can enjoy an experience far better and be much happier living in a small town rather than living in a big city. This is especially shown when Deputy Barney Fife, played by Don Knotts, moves from Mayberry to Raleigh, North Carolina. When he joins the police force in Raleigh, he is faced with tasks that are extremely time-sensitive and, in one episode, is pushed to his limits to be able to stop a store robbery. (This served as his "retirement" from the Andy Griffith Show, because Don believed that Andy Griffith would finish the show after five seasons.)
The show is cast very well and the actors do a great job of exhibiting Southern hospitality. Aunt Bee always cleans and cooks for the Taylor family, and they all humbly dress up for church every Sunday morning.
The whole family can watch the show believing that everyone on the show are friends in real life. But to much surprise, Andy Griffith and Frances Bavier, who plays Aunt Bee, often butted heads out-of-character, according to imbd.com.
The town of Mayberry is full of hospitality, but also reveals that small towns lack in entertainment and culture. Many of the adventures made by Andy Taylor and his varying partners and friends throughout the series leave Mayberry and take place at fancy restaurants, lakes, backroads, and old mineshafts.
The Andy Griffith show is definitely one to sit with the family and watch. It has plenty of humorous characters and good small town comedy. Andy Taylor represents a good role model for many young audiences. Most of all, it provides the viewer with a time when cell phones were not in-hand all the time, when there were milkmen who came to the door, and when everybody knew everybody. What someone might truly miss from watching the show is 5-cent soda bottles. Anyone would much rather spend a nickel than spend $1.99.
The Andy Griffith show can be seen on MeTV, TV Land,The  and is available for purchase on Amazon Prime.
Leave a Comment
About the Contributor
Aiden Wolfrey, Staff Writer
Aiden Wolfrey is a sophomore who is new to the Journalism experience. He was involved in the Debate Club at his middle school in Virginia, and he loves...