School Resource Officer Also a Musician and Ghost Hunter
A lonely mother sits in her bed, frightened. Nightly, she hears strange, new sounds. First was the knocking on the walls. Then, the doors began rattling. The floor creaks with footsteps as she lies awake in terror. She is far too afraid to come within feet of her bedroom door. 
This could be the opening to one of School Resource Officer Chris Berry's new ghost hunting episodes, coming Spring 2022 on a YouTube channel he is in the process of creating (previews can already be seen on Facebook at Paranormal Carolinas). 
Officer Berry, who has been at Socastee for a year and a half, has a very interesting background and life outside of school. In addition to planning to start a YouTube channel with videos of him ghosthunting and trying to solve cold cases, he has a music background and had a colorful police career. 
"I was a drummer for a rock band and a country band; I actually opened up two Nashville acts — Mel McDaniel and Kentucky Headhunters. I've been on TV, and I've been in a book," he said.
Before Officer Berry came to Socastee last year, he worked for Monongalia County [West Virginia] Sheriff's Office for five years, and then the West Virginia State Police for thirteen years. 
While working as a state trooper, Officer Berry became a secondary investigator on the team that solved the Skylar Neese murder. Skylar, a sixteen year old girl from Star City, West Virginia, was brutally stabbed early one July 2012 morning by her best friends.
"It's just nice to say that I got to solve something and make history, especially a big murder that made national news," Officer Berry said. "They made a book and there was a movie written about it, so it's kind of like there's actors playing my part."
Despite his exciting job, Officer Berry did not want to stay in West Virginia. 
"I was done — sick and tired of the snow, sick and tired of the weather," he said. "I wanted a life change."
He decided to come to Myrtle Beach because his family had been vacationing here for 25 years. 
"When you've been somewhere for 25 years, it's kind of like you almost call it your second home," he said.
Looking for jobs that could use his specialization in law enforcement, Officer Berry's first interview upon leaving his state police job was with Allied Universal Security Services, the company Horry County Schools contracts with for school resource officers. 
"Allied Universal was literally just a last minute thing," he said. "October 23rd of 2020 was my last day as a state trooper. I felt like if I wouldn't do it now, I'll never do it."
He lives in Myrtle Beach with his wife and baby daughter. "Everything's been perfect the past year and a half now," he said. "My best decision ever made."
Officer Berry feels especially lucky to have been placed at Socastee High School.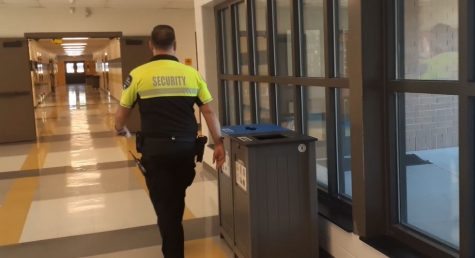 "I love it here," he said. "[My bosses] even asked me, 'Do you want a different school?' and I say 'Nope, leave me where I'm at. I'm happy.'"
He likes talking with students and teachers. 
"I've made really good friends here now," he said. "I always try to tell everybody, 'Don't be afraid to talk to me, I'm not a bad guy.'" 
Officer Berry is looking forward to starting his new ghost hunting YouTube channel, which will also feature treasure hunts and cold cases. The group he is working with, Paranormal Carolinas, is already beginning to receive contacts about suspicious happenings. 
"[We have] people who reach out that have possible hauntings or issues that lead them to a possible hauntings, or some kind of poltergeist or some type of apparition that they believe is in their house."
Officer Berry is also investigating an unsolved case of a missing boy in Charleston, South Carolina. A woman lost her son and believes she knows his possibile location, which is a pond just outside of Sumter. 
"She believes he got into some bad issues with some bad people," Officer Berry said "It's looking like a gang-affiliated hit. His body and his car were dumped in this supposed pond."
The YouTube Channel venture is just one more exciting chapter in the book of Officer Berry's life.
"At the end of the day, I'm a small town West Virginia boy," he said, "but look at what I've achieved."
Leave a Comment
About the Contributor
Aiden Wolfrey, Staff Writer
Aiden Wolfrey is a sophomore who is new to the Journalism experience. He was involved in the Debate Club at his middle school in Virginia, and he loves...