Students Stuck Working More Hours Due to Lack of Workers
Junior Mac Malambri has worked at Benjamin's Bakery in Surfside since the summer of his freshmen year. He started out working 30 hours a week during the summer. But this past summer he worked 50 hours a week due to the bakery being short-staffed.
"I worked more hours," he said. And instead of doing his usual job of being a dishwasher, he ended up baking.
Malambri is among many students whose part or full-time jobs have become more demanding because of COVID's effect on the local job market. 
The pandemic led President Trump to shut off a lot of immigration, including temporary foreign worker programs. As a result, the area did not have the nearly 3,300 international student workers who come to South Carolina each year to work. Also, in March 2021, the Biden administration passed a $1.9 trillion stimulus bill that expanded unemployment benefits to the fall, causing more workers to stay home. 
The Bureau of Labor Services reported at the end of April that there were more than 9.3 million job openings and 9.8 million unemployed Americans. 
Senior Stephanie Serna said she worked much more than usual at Panera both in the summer and fall. In the summer, she worked six days a week, and she still works a lot now.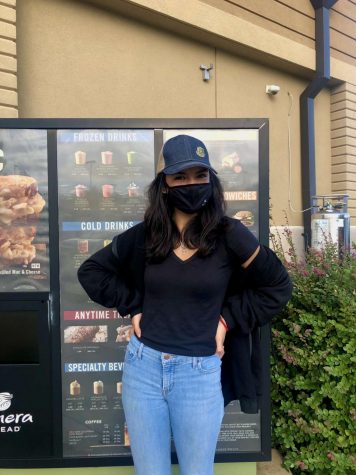 "I go to work after school because we are really understaffed," she said. " I usually work 40 hours a week on top of school." 
She said she even had to come in on her days off because people did not show up. 
"I had to come in, and there were some nights that I did not finish closing until 12 am," she said.
Senior Victoria Leroy, who works at an ice cream shop in Litchfield, said she used to only work 2-3 days a week, "but now I am working 4 days a week because we are so short-staffed."
She feels more stressed, she said, because she does not have enough down time to relax with others.
"Hanging with my friends helps me mentally destress and have fun," she said.
Craig Bushwacker, who is a food runner at Socastee Station, said he feels the same way.
 "I have missed hanging out with my friends and a few family dinners due to me having to fill in for someone."
Leave a Comment
About the Contributor
Callie McIntyre, Staff Writer
Callie McIntyre is a junior who joined the yearbook staff to understand the actual work that goes behind creating a book full of memories for everyone....