Teachers Take Advantage of Vaccine Eligibility
A number of teachers took advantage of their eligibility to receive a COVID-19 vaccine, scrambling to get it before all students come back into the building full-time, which is expected to happen in the next few weeks.
Teachers became eligible to receive the COVID vaccine March 8 as part of the state's Phase 1B group. Horry County School District set up vaccine distribution for its employees through Conway Hospital and Conway Medical Center, giving out the shots in alphabetical order.
Business teacher and Girls Varsity Lacrosse Coach Hampton Campbell received his shot this way.
"I filled out a Google Form from HCS stating I was interested," he said. "About a week or two later, I received an email asking me to reply with my phone number if I was still interested. About a week after that, I received a phone call telling me when my two appointments for my two shots would be." 
However, some teachers with last names later in the alphabet chose to get their shot at other places because they were able to get it sooner.
English Teacher Mrs. Patricia Jones got her shot at Walgreens.
"I had signed up with the district, but it was much faster to go through Walgreens," she said.
She said she decided to get the vaccine to protect herself and her family. 
"I have a mother in the nursing home and worry about her, " she said.
She said she had a sore arm the day after the first shot, and she had not received her second shot when interviewed.
Getting the shot also helped her feel a little more secure about teaching with all students back in the building at one time when the school returned to a five-day schedule in April.
"I do not feel we should be going back five days a week," she said. "I am worried that not enough people have been vaccinated." 
She also worried about safety on the buses and teachers "not having lunch breaks and eating with 20-plus students in their rooms with no masks while eating," she said.
Mr. Campbell decided to get the vaccine after researching the effectiveness of it.
"The research shows that no one that has received either of the three vaccines has been hospitalized or died from Covid 19," he said.
He, too, had only received the first shot when interviewed, and said the only side effect was "a very sore left arm."
He said he too felt safer going back to the 5-day-a-week schedule once vaccinated. 
"I am glad to be going back to 5 days a week," he said. "I really enjoy seeing and interacting with my students and athletes." 
Leave a Comment
About the Contributor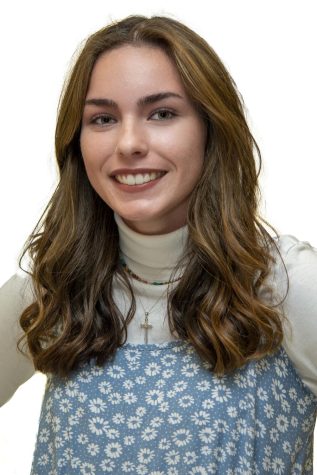 Catie Lovelace, Staff Writer
Catie is a senior who has been a part of the journalism and yearbook staff for three years. She joined journalism and yearbook because she loves taking...