OPINION: Systemic Racism Effects Us All
Former First Lady Michelle Obama in a recent interview on CBS explained how her family feels personally  affected by racial bias:
  "[My girls] are driving. But every time they get in a car by themselves I worry about, 'What assumption is being made by somebody who doesn't know everything about them?' The fact that they are good students and polite girls, but maybe they're playing their music a little loud. Maybe someone sees the back of their head and makes an assumption." 
Mrs. Obama's worry is a byproduct of systemic racism — racism  rooted within laws and procedures of society. It has tainted several systems of our country including education, criminal justice, and healthcare. Though it has a distinguished role in society, people often deny its existence. Not acting outright prejudiced on a personal level is one thing, but not enough. People also have a responsibility to acknowledge and fight systemic racism.
Here are just a few statistical examples of systemic racism:
Education:

According to the Department of Education, black students of all ages are three times more likely than their white peers to get suspended, even when their offenses are similar. 

Criminal justice:

Black children are 18 times more likely than white children to be tried as adults.  Also, blacks are  13% of the population but  make up 40% of the prison population (Association for Psychological Science). And the U.S. Sentencing Commission found that

more than half of young black Americans know or are someone who has been harassed or unfairly targeted by police, and black drivers are 30% more likely to be pulled over. 

Healthcare:

According to the US National Library of Medicine,  70%  of medical professionals have some level of implicit bias against black Americans, as well as other minority groups. Also, black doctors are less likely than their similarly credentialed white peers to receive government grant money for research projects. 
Black people will only gain justice once everyone understands and does something about the roots of the problem. Here are some ways to fight systemic racism:
Acknowledge the problem.

The first step is getting educated on systemic racism and owning up to the fact that denying systemic racism contributes to the problem. "It's shifting that mindset from prejudice… to enjoying the opportunity to have intercultural, interracial dialogue," Professor Tim Vogus with the University of Vanderbilt said. A great way to do this is researching systemic racism and how historic practices like Jim Crow laws have made their impact on today's world.

Listen to your black peers.

The only way to understand the true effects of systemic racism is by opening your ears to the experiences of others. One way you can do this is by sitting down with your minority peers and having a conversation about their experiences. You can read books that shine light on systemic racism like

Uncomfortable Conversations With A Black Man

by Emmanuel Acho or

White Fragility

by Robin DiAngelo. There are also TV shows and web series that cover the same topics, like

United Shades of America,

hosted by W. Kamau Bell, and

The Shop:Uninterrupted,

hosted by Lebron James.
Advocate for the dismantling of racist structures.

By advocating for change, you are making your voice and the voices of many others heard. People are often educated, but rarely speak out. A great way of speaking out is calling out racism when you see it. Have difficult conversations with the people around you and encourage them to better themselves. Another way to speak out is by getting involved politically. Write to your representatives about how systemic racism impacts your community. 
If we do nothing about it, systemic racism will continue to divide our country. We have to take a step towards destroying the racism in our society to unify the country and make a better America for future generations. 
Leave a Comment
About the Contributor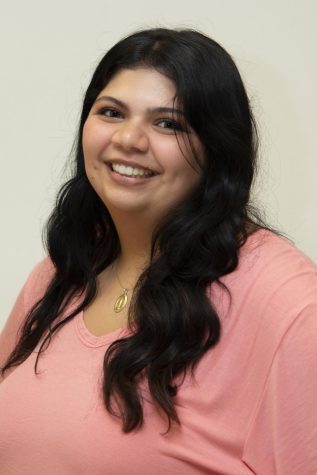 Alexis Harris, Editor-in-Chief
 Alexis is a senior who has been a part of the yearbook/newspaper staff for three years. She currently serves as the Editor-in-Chief of both publications....