Orchestra Students Earn Honors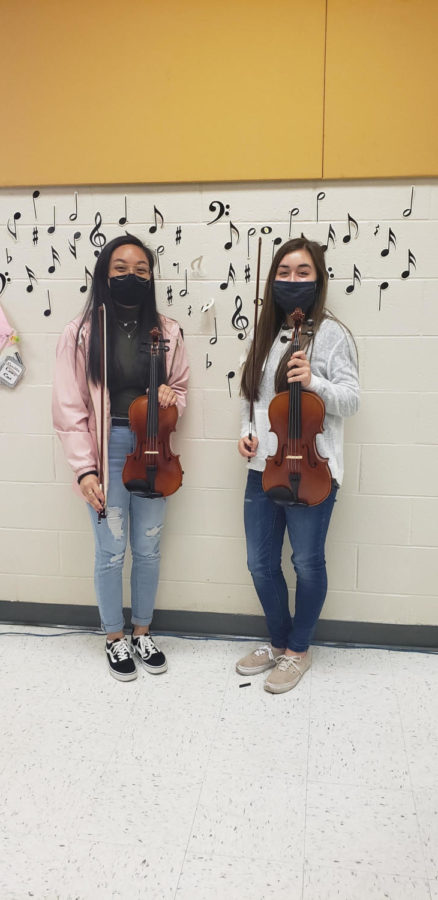 Orchestra has had to cancel most of its performances this year, but a lot of music is still being made in Room 203 by the "Upstairs Band", as the group is sometimes called.
Two students from orchestra — senior violinist Julianne Macanas and sophomore violist Addison Martin– made it into All-County despite restrictions the pandemic has imposed. Because of the hybrid schedule, students have received only half the amount of in-person practice time this year.
"While orchestra has faced a whole new set of challenges this year, we have strived to adapt and work the best we can with the conditions of our environment," Addison said.
Playing in "COVID Orchestra" has had ups and downs, Julianne said. 
"It's nice having your own stand and music," she said, "though I do miss the closeness of how it usually is"
The auditions for All-County Orchestra also were affected by COVID restrictions. Students had to record and send in their audition rather than do it live. They could record up to five takes, then select the best one to be scored by judges. This actually was beneficial, Julianne said. 
"I'd say it's a lot easier this year since we were able to record our auditions multiple times and submit our best one instead of having only one shot."
Unfortunately, the All-County group will not be able to meet together in person and have a live concert. However there will be a virtual concert in April.
Socastee's Orchestra plans to have one live concert May 20, and the group is looking forward to being back on a regular schedule for the last few months of school.
"Bringing all of us together again for face-to-face will be exciting and I believe we all look forward to that," Orchestra Director Mrs. Tamar Ben-Pazi said.
Leave a Comment