Contracting COVID Complicates Life for Students, Staff
The school had 58 documented cases of COVID and the district almost 2,000.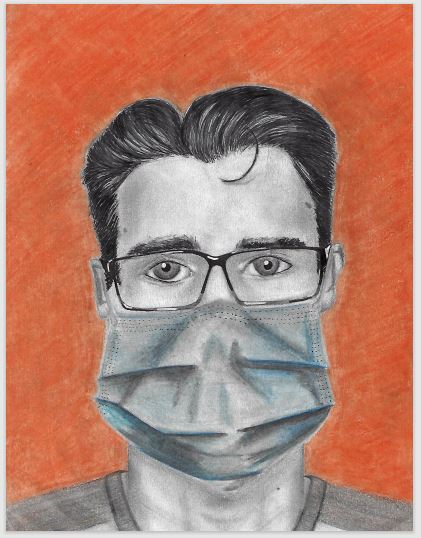 In addition to having to deal with the chaos of a hybrid class schedule, a number of students and staff members also have had to deal with the stress of testing positive for COVID or quarantining because someone they knew had it.
According to Horry County COVID Dashboard, there were 58 'historic cases' of COVID and 4 'active cases' at Socastee High School as of March 5. The entire school district had almost 2,000 historic cases, and nationwide there were 28.9 million cases and 520,000 deaths. Some people with COVID experience no symptoms, while others lose their sense of taste or smell, have fatigue, headaches, a fever and achiness, diarrhea, or even end up on a respirator due to breathing problems. 
Sophomore Kason Pippin  contracted COVID in October. She believes she got it from her mom, who is a pharmaceutical sales representative who has to go in and out of doctors' offices.
"My mom got it and I was feeling under the weather and got tested," she said.
She said her symptoms were mainly body aches.
"My body hurt and I was really tired all of the time," she said.
She said symptoms were a lot worse for her mom, who has reactive airway disease.
"She was almost in the hospital," Kason said. "She had to do breathing treatments and get an MRI and was really struggling."
She was relieved that her mother received her first vaccine dose in February.
Freshman Aiden Wolfrey contracted COVID a week before the second semester started in person (the first two weeks were virtual due to high COVID rates). During his quarantine, he did not feel sick but just tired all the time, which made attending virtual class tough. 
"I would usually stop for a while, then go back to class when I felt better," he said. "Otherwise, I would just not do it."
His grades fell behind a little because of his constant fatigue, but overall he was thankful that school wasn't that difficult. He was mostly just annoyed that he had to stay in bed and couldn't go outside and move around. His entertainment was just watching shows on his TV while starting his school work.
"School wasn't that difficult in my opinion, since all I had to do was log in," he said.
Senior basketball player Mike Herrin tested positive for COVID in December. He said he did not have major symptoms.
"I didn't really get too sick or anything," he said, "just the worst part was losing taste."
The basketball team had to quarantine for a few weeks when Mike was diagnosed. Senior basketball player Dawson Bell was the one other team player who tested positive. He said he was not surprised because he had close contact with Mike during the team's last game before it quarantined.
"Before the game, we were both walking around the school without masks, touching doorknobs, and it was senior night so we walked out together," he said.
He said he didn't have any symptoms for the first couple of days  but " the next day I woke up with a fever, and I was coughing for about two weeks. I didn't eat much — just soup with crackers, and I slept a lot."
That lasted three days, then for the rest of his quarantine he attempted school work but said it was hard keeping up.
"I could barely make the [Google Meet] calls," he said
English Teacher Mrs. Tiffany Lange was diagnosed with COVID on the first day of the second semester.  She said she got tested after feeling dizzy, tired, and congested.
Once she tested positive, she had to quarantine for 14 days, which was stressful because she had not yet met any of her students. She felt too weak to teach the first ten days.
"I really didn't do much those first days," she said, "but after the first four days, I used the rest of those days to catch up on grading."
Once she was able to get back to teaching online, she was thankful to be able to teach her students that way. She said if  her work was not available online "it would be impossible for my students to pass the class."
In addition to having a hard time working with COVID, it was also difficult staying away from her four children and husband, who did not have the virus.
"No one in my family had COVID, so I isolated myself from them," she said.
Her four kids, especially her son,  missed being around their mom.
"It was hard because when my son wanted me to read a book, I would have to say no and have someone else to read to him," she said.
Leave a Comment