Wrestling Wins Region
Despite the challenges COVID added to the extremely close contact sport of wrestling, Socastee's team finished its season as regional champs.
"I definitely feel like this year we have a really good team, especially with what we've been through and how we've been handling that," Junior Team Captain Javin Hacket said.
The team's final record was 11-4 in the regular season. They lost the regional playoff to Cane Bay High School in Summerville in a tough match in which two players were injured.
Although they will not move on in the post-season as a team, some wrestlers will now move to regionals as an individual. Senior captains Javier Barrios and Nick Ward said their ultimate goal is to place in the State Championship this year. 
"All I have is this year, so I'm putting in all of the work," Javier said.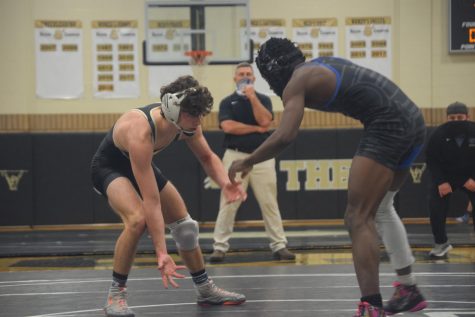 All team members have been working hard not only at wrestling, but at staying safe. Throughout the entire season, the Braves have been diligently practicing safety precautions to avoid the rapid spread of the COVID virus. 
"It's like loving someone in your family; you'd do anything to protect them," Junior Camren Knapper said. "We love the sport, and we love this team."
Mats were cleaned in between each individual match, and the wrestlers were expected to remain smart and socially distanced when off of the mat and out of school. The team never had to quarantine, but some matches were cancelled because other teams did. 
The restrictions and inconsistency of the season weighed heavily on the team. However, they all agree that it also brought them closer together. 
"I've never been on any team that has ever been like such a family," Sophomore Arber Kelani, another captain, said.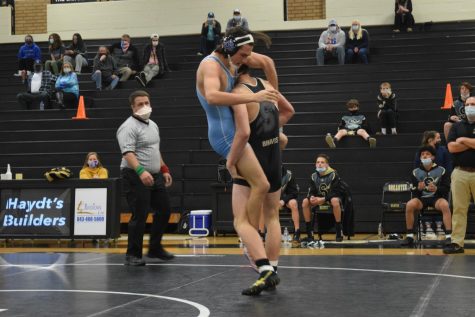 The team trains six days a week. They also re-watch matches to see where they can improve, and each wrestler has the added pressure of making or cutting weight before a match. 
"I actually almost gave up [earlier this year, but] a lot of my teammates encouraged me to keep on going, and it has driven me to be a better wrestler every single day," Nick said. "It taught me that wrestling is more than just myself; it's a family thing."
Camren said a big part of being a wrestler is always being available to your team.
"You get the mindset of being relied on," he said. "It's the mentality that 'I have to do it not only for me, but for my team'."
This includes standing by a teammate after a loss. 
"Some people come off the mats really frustrated with a loss, but then all of the coaches and all of the captains will get together and we'll talk to that person about what they need to work on," Javin said. "If you don't want to work to make another kid better, then there's really no point in doing this."
The captains, especially, try to help younger wrestlers by example, said Javier, who is known for his strong work ethic and humbleness.  
"I don't like to talk a lot, because I prefer for you just to see what I can do," he said. "I'm not gonna be yelling at the freshmen. Just watch me wrestle, watch me work." 
The coaches also help motivate the team. Head Wrestling Coach Jeffery Gibbins, known as Coach Gibby, has had a profound impact on each individual wrestler, Camren said.  "My first year in Socastee wrestling, Coach Gibby came up to me and he said, 'It says W or L. It's not win or loss, it's win or learn," he said. "And that's stuck with everyone here. This whole season, seasons past, and seasons in the future, it's gonna stick."
Leave a Comment
About the Contributors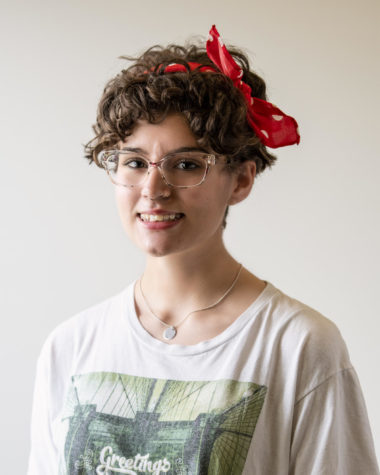 Leea Port, Staff Writer
Leea Port is a senior serving as a co-editor on her third year of writing for Socastee High Yearbook and The NativeVoice.net. She also was part of Socastee's...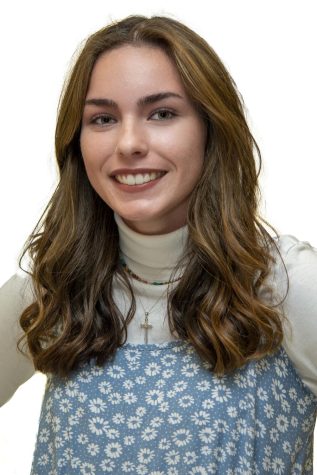 Catie Lovelace, Staff Writer
Catie is a senior who has been a part of the journalism and yearbook staff for three years. She joined journalism and yearbook because she loves taking...