FCS Teacher Mrs. Gorcesky Humbled by Teacher of the Year Award
When she first heard she was nominated for Teacher of the Year, Family and Consumer Sciences Teacher Mrs. Gina Gorcesky was reluctant to accept, not sure she deserved it more than others at the school.
"All of us are struggling, stressed, revising lessons, and finding ways to balance time with our families and friends," she said.
But eventually she decided "life is short, so I might as well go for it."
She ended up being chosen among finalists that included English Teacher Mrs. Suzanne Troiani and French Teacher Mrs. Kelly Chilson. Mrs Gorcesky said she was humbled to be chosen from such a qualified group of candidates.
"They bring radiance into their classes; they're another group of ladies that truly care about their students."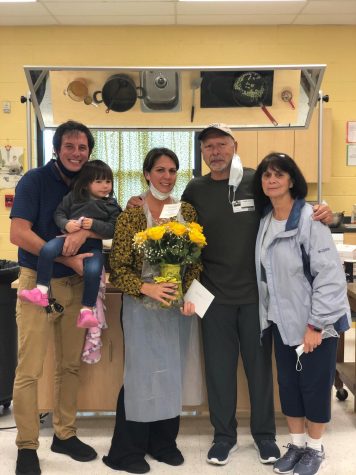 Mrs. Gorcesky grew up in Indiana and attended Ball State University, getting a degree in Family and Consumer Sciences. 
"I moved here with high school friends and started subbing at Socastee," she said. It was hard to find a job with her type of teaching degree (the district has only five FCS teachers), so she started subbing at Socastee in 2006 and also worked as an administrative assistant for half a year until a teaching job opened up. She now teaches two FCS classes — Cooking 1 and Cooking 2. Both her parents were teachers. "I always knew I wanted to be a teacher," she said. 
She said she has tried to adopt her parents' structured teaching style. "Students want that structure," she said. "They want that routine – knowing that it's Tuesday, we're cooking."
But her classes also involve a lot of fluid, hands-on learning.
"Taking her class is a lot of fun and it's a lot less book work than I was expecting," Sophomore Sydney Alderman said. "She's very laid back, and she's serious about the right things at the right time."
Mrs. Gorcesky said she is always on the lookout for new trends and methods in teaching that keep students engaged. Her favorite part of the job is seeing students accomplish new things.
"Just seeing the students doing things they never have, to say 'I never made this, I never did this'," she said. 
She also enjoys the relationships formed in the classroom. "Not just teacher-student, but student to student," she said.
Mrs. Gorcesky is married to a teacher — an automotive technology teacher at the Academy for Technology and Academics who was Rookie Teacher of the Year last year. 
She met him through Mrs. Sautoff when she first started working here.
"She mentioned that she thought I would be a perfect fit for her brother," she said. "He was younger…so I didn 't want to do anything about it…but we really hit it off."
She and her husband have two daughters, age 2 and 5.
"I never pictured myself having kids," Mrs. Gorcesky said. "I was the youngest and never even babysat in my life."
But her children have turned out to be the best part of her life. "They're what I'm most proud of," she said.
Leave a Comment