Cross Country Runner Finishes First in Regionals
The team was able to finish the season without any COVID interruptions.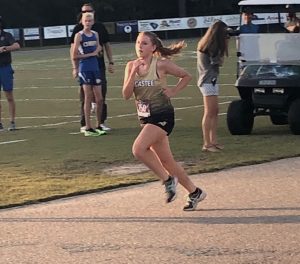 Despite having to deal with coronavirus, cross country achieved many goals this season.
"The entire team ran an exceptional race," Coach Melko said.
The girls did especially well. Junior Sarah McCann was the first overall finisher at Regionals, the first time in a decade that a Socastee runner has done so.
"Sarah McCann has steadily improved over the last two years to where she is now our top runner," Coach Melko said. 
He said Senior Olivia Rickenbrode also worked really hard in the offseason. "It really showed in her performance during the year."
Addison Martin struggled with injuries last year, but she recovered and became a solid runner this year, Coach Melko said. 
On the boys side, he said new runner Junior Walid Osborn was especially strong.
"He started out slowly, but once he learned the ropes he became one of the top runners for the boys," he said.
Sophomore Hayden Marks said one challenge for the boys was losing seniors from the year before, along with a losing a couple others mid-season.
The team practices around 10 hours per week. After stretching and warming up, they would do a hard segment such as running up and down the ramp on the side of the school. Then, they might run 3-4 miles around campus or through the Rosewood Community and end with a cooldown.
The most difficult part of the season was doing everything possible to minimize the risk of Covid-19, both Marks and Coach Melko said. The team could not share water sources, had to wear masks on buses and stay socially distanced during practice, which really put a dent in preseason training.
"We would normally hold team workouts over the summer," Coach Melko said, "but in the interest of safety, runners had to train on their own."
The precautions paid off, though, and the team did not have any shutdowns during the season.
"The greatest moment of the cross country season was being able to have a season at all," Marks said.
Leave a Comment