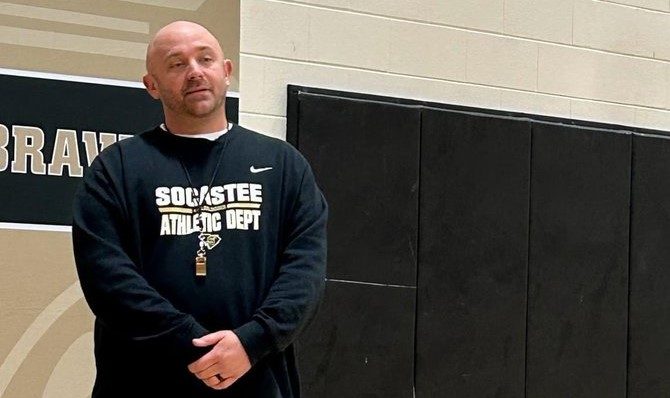 Love of Sports Led Mr. Curran to Teach
When Socastee hired PE teacher Mr. Robert Curran, they also got a football and lacrosse coach. 
Mr. Curran said he is enjoying his first year here, where he is a PE Teacher, assistant football coach and lacrosse coach.
"I love working here," he said. "It feels like people support one another. I feel like Socastee is a family atmosphere."
Mr. Curran said his passion for sports led him to become a teacher. He played football, hockey, baseball and basketball growing up.
"I wanted my life to be involved in doing sports and getting paid for it," he said. "I also wanted to coach football, and so coaching PE was the best thing to do so I could coach football."
He's also coaching men's JV lacrosse.
"I've coached football for thirteen years," he said. "I coach lacrosse too, but this is my first year coaching that."
He said his favorite part of teaching is teaching team sports. "because kids work together… I like seeing kids working together."
Freshman N'asheria Tisdale is in Mr. Curran's Physical Education class this semester and enjoys it.. 
"I like Mr. Curran because he does a lot of interesting sports, and I like that there's variety," she said. 
Mr. Curran has lived in South Carolina for five years, and he worked at River Oaks Elementary before coming here.  Before that, he lived in Maryland and worked at five different elementary schools and a high school. 
Mr. Curran has also started the One Love Club at Socastee.