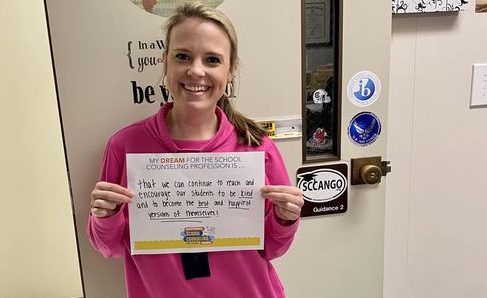 New Guidance Counselor is Alumnus
For new Guidance Counselor Ms. Brittany Belcher, working at Socastee High School is a homecoming.
She is an alumnus and also did her college internship here.
"I've graduated from here, so I always wanted to come back here because I know the community so well and I wanted to serve the kids as well," she said.
Her experience at Socastee is what made her want to become a guidance counselor.
"I struggled myself in high school, and one day in college I realized how much I struggled and how much my academic advisor helped me and I wanted to also help other people," she said. 
Mrs. Belcher went to college at Coastal Carolina for her undergrad degree and earned her masters from Capella University.
While in college, she interned at Socastee High School under guidance counselor Ms. Eva Gaddy.
Ms. Belcher, who works with students with the last names E-Le, loves being able to assist students pick and be successful in classes. But not all students want help, she said.
"I cannot help every person because you cannot help someone whos not willing to help themselves, and sometimes that affects me emotionally, because I want to help," she said.
Freshman Lauren Laxamana, one of Ms. Belcher's students, said Ms. Belcher  is very welcoming. 
"She makes you feel comfortable," she said. "When I had to ask about a schedule change she explained and gave good reasons why classes weren't available."
She said she is efficient, too: "She replies very fast to emails, great communication." 
Before coming to Socastee, Ms. Belcher worked at Conway High School for four years.
Outside of school, she spends time with her husband and two kids.