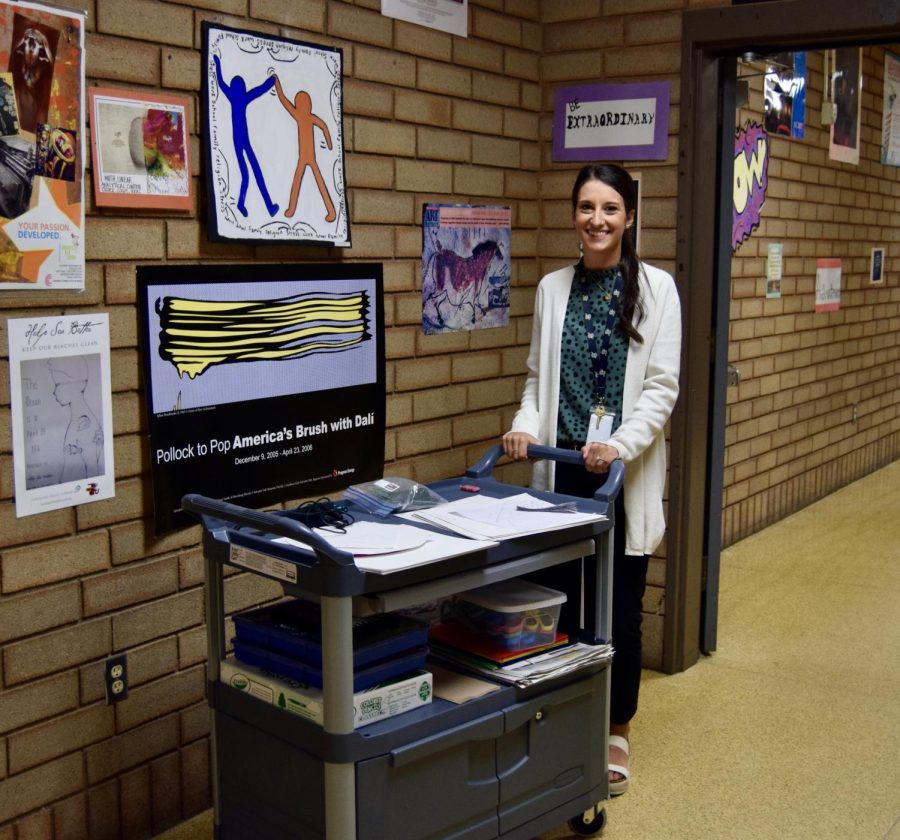 Mrs. Heinrich Shares Love of Art, Sneakers With Students
Socastee's newest art teacher, Mrs. Lyndsey Heinrich, said her interest in art began early on. 
"My parents always encouraged my brother and I to spend our time outdoors so we were constantly building things, stretching our imaginations, and being creative," she said.  "Whenever I was inside, I was drawing, coloring, or creating something, and I knew I wanted a future career where I would still be able to do that every day. "
While she has made a career out of teaching art, the Art 1 teacher has never been interested in selling any of her art pieces. She instead gives them as gifts.
 "My brother travels a lot and is a great photographer, so I paint the pictures that he takes, and he has them hanging in his home," she said.  "I've also done a lot of graphite portraits of my friends' children and family members."
Her favorite artist is Chuck Close, an American painter, visual artist, and photographer who made massive-scale photorealist and abstract portraits of himself and others, and who became paralyzed in his late 40s due to a spinal issue. His ability to overcome his disability is what inspires her.
"Since he could remember 2D images but not 3D faces, he took pictures of people, divided them into pixelated squares and painted them piece by piece on a large scale," she said. "I think it's really cool that he used art to overcome a disability and create beautiful pieces of artwork at the same time."
Before teaching at Socastee, Mrs. Heinrich taught for seven years at Palmerton Area High School in Pennsylvania, the same school she attended. She is a 2015 graduate of Millersville University in Lancaster, Pennsylvania.
Choosing to teach here at Socastee wasn't a tough decision. She knew she wanted to teach here after watching an Horry County Schools video entitled "The Person Behind the Title" that featured Mr.Rich. In it, Mr. Rich talked about how he dressed up as Gru from Despicable Me during Spirit Week, and the rest of the staff surprised him by dressing as Minions.
"It had just been posted online at the same time I began my research, and I saw that not only does Socastee have great administration, but they have a strong sense of community and pride in their school," she said. "I could tell by that video, mainly the Gru and Minions segment, that it would be a fun and welcoming environment. "
Mrs. Heinrich said she tries to use a laid back teaching style to encourage her students to connect with art.  
"I think it's important to be a little more relaxed in the classroom so my students feel welcome and willing to create art without judgment," she said. "I like to joke around with my students and have fun but there is also a time to be serious and get work done." 
One way she connects with students is through her sneaker collection. She recently shared her latest purchase – a pair of Travis Scott Jordan 1 Fragments that she wore in pictures after her wedding. 
"I've had a lot of conversations with students about sneakers and my interest in collecting them," she said. "There are quite a few students at Socastee who are also into sneakers, and I think it's really cool that we have that in common."
Sophomore Kiarra Daymiel also has an interest in sneakers, and said Mrs. Heinrich share is almost like a mother figure to her.
"I feel like I can talk to her personally about home stuff," she said.
Freshman Anthony Martinez said Mrs. Heinrich has helped him become a better artist.
"She pushes me to the limits she knows I can reach."