Mr. Haas Aims to Inspire at His Alma Mater
Mr. Eric Haas decided to become a teacher because he wanted to inspire students in the same way his teachers inspired him. 
"I always had somebody that was behind me pushing me forward, to go to school, go to college, and to better myself, and I decided that I wanted to help students find their path and find their way in life," said Mr. Haas, one of two new English teachers at Socastee.
Some of the teachers who inspired Mr. Haas still teach at Socastee. He graduated in 2009?. 
He taught high school English and English as a Second Language in Georgetown for 8 years before finding his way back to Socastee when he saw the opportunity open up.
"The best way that I could help students find their path was to become a teacher and expose them to things that are going on in the world and open their eyes to that," he said. "I thought teaching was a great way to help build the community that made me."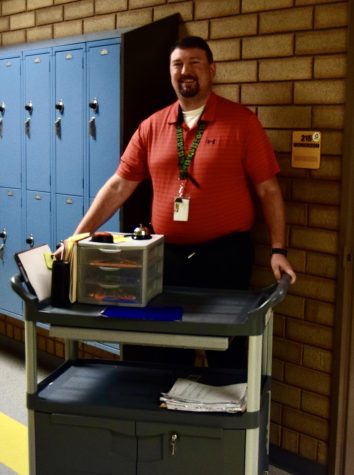 Mr. Haas said his teaching style relies a lot on communication, and keeping students active and interested. 
"I like it when students have the opportunity to talk and discuss things instead of just copying them off the PowerPoint," he said. "I think of myself as a very active teacher." 
He likes when students question him in class.
"If we're reading a book and someone says 'Hey, have you ever thought about this before?' and it actually pertains to the book, it makes me feel like I'm doing my job because the students want to know more information," he said. "That means that I'm learning, too, and that's really important to me, that my students grow up understanding that asking questions, and then having an opportunity to discuss those questions, is productive and meaningful."
Freshman Ashley Curtis, who has Mr. Haas for English 1, says his sense of humor keeps her engaged in class.  
"He does it in a joking way and makes it fun, but still to the point where it's understandable," she said.
Some things have changed at Socastee since Mr. Haas used to go here. 
"The funniest thing that's changed is we always used to have fried chicken day and I don't know what's happened to it," he said. 
Technology has changed a lot, too.
"I remember learning with overhead projectors, but now we've all got projectors, computers, and everything seems to go just a little bit faster, and we can cover more content," he said.
Mr. Haas' best friend Mr. Matthew Parris, who also graduated from Socastee, teaches at Socastee, too (Spanish). He said they still hang out, doing a lot of stuff outdoors together.
"My favorite memories include when we lived together for about four months," he said. "We spent many hours together playing video games, watching silly YouTube videos, and playing disc golf."