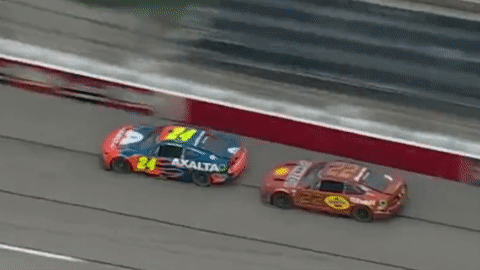 Was That Really Necessary?
For years Joey Logano has earned one of the most hated reputations in all of NASCAR. His fued with Denny Hamlin in 2013 and it's resurgence in 2019 has definetly made him the most hated among Denny Hamlin fans. We also shouldn't forget his 2015 fued with Matt Kenseth which has made him even more hated. There are very few instances where Joey Logano has been on the wrong end of the stick, such as Chase Elliott's run in with him at Bristol in 2020 and his 2012 run in with Kevin Harvick that resurged in 2015. He even made a very well praised bump and run on Martin Truex Jr in 2018 at Martinsville which helped him eventually win the championship.
William Byron on the other hand hasn't had much feuds to begin with. His only well known is with Joey Logano's former teammate Brad Keselowski which basically came at Daytona in 2018 and in 2019. He also has a resolved rivalry with fellow Chevy driver Tyler Reddick. William Byron is very clean and doesn't pull off stupid moves that Kyle Busch would do or maybe even Martin Truex Jr.
So on Mother's Day weekend it was not a trophy and flowers for William Byron's mother instead it would just be frustration towards Joey Logano for the both of them. It was on a late race restart where this all came down at Darlington Raceway. Joey Logano had been fighting kind of a tight race car and it doesn't help when two cars are side by side in turns one and two and your the one on the outside trying to keep off the wall. Joey Logano's car then washed up the track in turn two giving William Byron the ability to run away with the lead. Then in the closing laps of the race William Byron's handiling started going away and into the clutches of Joey Logano. As they got into turns three and four on the second to final lap Joey Logano gave William Byron the bumper and his car went up the track into the wall resulting in a 13th place finish.
So was that really necessary? No, it was not. Sometimes the best revenge doesn't mean wrecking anybody but winning. To be fair I was watching this race and I felt like it was gonna be a remake of the clostest finish in history between Ricky Craven and Kurt Busch at Darlington in 2003 or somewhat like that. But instead Joey Logano felt like his reputation was on the line and made a stupid move.
Jeff Gordon (Vice Chairman of Hendrick Motorsports) stated; "William (Byron) got to payback Joey (Logano) at some point." After the race.