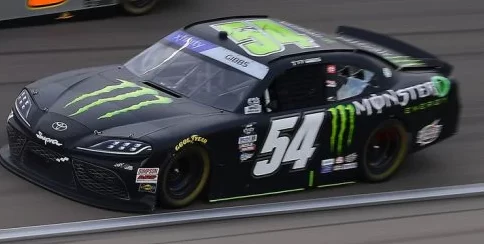 Where do I stand on Ty Gibbs?
Ty Gibbs is the grandson of team owner Joe Gibbs, he runs the No. 54 Joe Gibbs Racing Toyota Supra in the Xfinity Series, and has become hated like Kyle Busch. So why is he hated?
Let's go on a quick recap of Ty Gibbs' life: Grandson of Joe Gibbs, seen as a rich kid, had a lot of good equipment handed to him as he started racing, dominated and won a lot the Arca and Xfinity Series (part time), skipped the Truck Series, and got a full time ride in the Xfinity Series. So I can see why he's hated. Many fans like myself can say that they hate rich kids who just come up and dominate. There many examples of this, one being Jeff Gordon who ran the No. 24 for Hendrick Motorsports. Jeff Gordon was so resented by the fans that they were willing to throw beer cans during his burnouts, and he got booed alot because he won alot. But there's more to the story of Ty Gibbs.
Ty Gibbs, had four major incidents. Starting with Martinsville in fall of 2021. Ty Gibbs intentionaly brake checked Sam Mayer, part time driver of the No.8 Jr Motorsports Cheverlet Camaro in 2021. No repercussions were given to Ty Gibbs as Sam Mayer continued but karma did catch up to him later in the race when Sam Mayer's teammate Noah Gragson in the No. 9 spun him (aggressive like Ty Gibbs but isn't hated much due to the fact he races for a fan favorite Dale Earnhardt Jr, who is now retired) late in the race and Noah Gragson went onto win the race.
Fast foward to 2022, at Las Vegas, four laps into the race Ty Gibbs gave the bumper to Ryan Sieg a driver who has ran a lot in the series, and is underfunded running for RSS Racing in the No. 39 Ford Mustang. And this was needlessly, just because you start at the back of the pack, doesn't you have to get through there as fast as possible. Ryan Sieg tried retaliating but failed and actually harmed two other cars instead of Ty Gibbs'. In the NASCAR Heat Series career mode,I don't wreck anybody that early into a race because I know I don't want to be mad at an electronic device. But Ty Gibbs took the blame during a red flag, and ended up winning the race.
Later on in 2022 at Richmond Ty Gibbs was racing the No. 18 of John Hunter Nemechek, a part time teammate who regularly runs in the Truck Series. It was a short track showdown as each would trade the lead with the iconic bump and run. It was the last lap, final corner, Ty Gibbs bumped John Hunter Nemechek, moved him up the track once side by side with him, and won the race. John Hunter Nemechek is not the type of driver So this makes three incidents he actually got away with.
A week later, coming back to where this all started, Martinsville. Ty Gibbs had the fastest car in a caution filled race. On the final lap of the final corner Ty Gibbs found himself in second place on the outside of another car, and in front of long time rival Sam Mayer of the No. 1 car of Jr Motorsports. Sam Mayer gave him the bump and run which angered Ty Gibbs as he fell well outside a top five. Ty Gibbs then rear ended, and almost spun Sam Mayer out at the cost of one of his grandfather's cars. Ty Gibbs then confronted Sam Mayer on pit road without taking his helmet off, while Sam Mayer did, and then pushed Sam Mayer after some words were exchanged. Ty Gibbs then walked away, and then Sam Mayer came up to him and that was when all hell broke loose: Ty Gibbs and Sam Mayer fight after bump and run.
So you ask where I stand on all this? Well I stand with moral responsibity which Ty Gibbs lacks. Ty Gibbs basically just set himself up to be a guy like Kyle Busch, like Kevin Harvick, like Tony Stewart, like Johnny Sauter, like Joey Logano, guys who are generally hated (exception of Tony Stewart and Johnny Sauter due to the fact they became fan favorates in their final seasons). I definetly hold a grudge to someone who doesn't take their helmet off, which is what fans like to see from a driver indicating that they would not like to fight. And the fact that Sam Mayer runs for Dale Earnhardt Jr, former driver in the Cup Series, and also the fan favorate for 17 seasons really gave Sam Mayer some real estate when racing Ty Gibbs hard. In my opinion Ty Gibbs is much like a young Kyle Busch, a man who came up, young, arrogant and hated, as well always wins. People hate when rich drivers dominate and win because they want to see their favorate driver win. So Ty Gibbs had it coming and on Dale Earnhardt Jr's podcast it's recent headline before the Xfinity race stated; "Ty Gibbs can dish it, but can he take it?"
To shorten it up, Ty Gibbs will take time to repair his reputation and due to the fact he should be coming up to the Cup Series shortly, he definetly must not mess with any of the top dogs or else, he might be the one getting punched in the face.