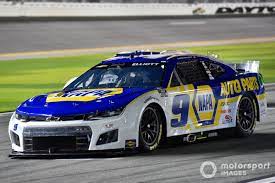 Hendrick Motorsports Starts Their Season Off Right.
For the past two seasons Hendrick Motorsports won the Championship, and this season is no different. With only 5 races into the season, they have won 3 races, and with the Next Gen Car they've got things figured out. With a new car Hendrick Motorsports managed to become the master of the Next Gen, in addition to giving $2,000 to Ukraine in their struggle against Russia for every lap they led at Las Vegas, in addition $200,000 for Ukraine releif.
And here is the evaluations of each Hendrick Motorsports driver this year:
Kyle Larson who drives the No.5 won at Auto Club this year, in some controverial events surrounding that race. Despite that win he has 2 top fives and 3 DNFs as we head to the road course Circuit of The Americas (COTA for short) in Austin, Texas. His COTA stats are this: 1 top five in a rain shortened race. He sits 12th in the points and has led 59 laps this season, and has proven himself well on road courses. His momentum comming from the championship last year still makes him a face to beat.
The 2020 Champion  of the No.9 has taken control of the points lead and Chase Elliott fans are happy despite his winless streak. With 3 top tens and 2 finishes of eleventh or worse he still has yet to win. But if there's anything on calendar circled in red ink, it's next Sunday at COTA. He leads all active drivers in road course wins. If there's any motivation to lead all drivers, he is two wins away from beating Jeff Gordon's (Vice Chairman to Hendrick Motorsports) record of 9 wins.
The happiest man in the garage is William Byron of the No. 24. His win at Atlanta has given him 4th in points and two stage points to start off the season.  This win is a game changer for him, as he has 2 DNFs and a top five at Las Vegas before coming to Atlanta. His momentum is certainly a force to be reckoned with for the rest of the season. Let's not forget, he had a string of top ten finishes last year from his win at Homestead Miami Speedway.
Alex Bowman in the No. 48 started the 2022 season with 5 consecutive front row starts in the Daytona 500, and nobody has done that. But with two finishes outside the top twenty at Daytona and Auto Clup, he rallied back and won at Las Vegas. He currently holds 9th with 2 top tens. He will definitley be a sleeper pick for the Championship, and he may have replaced Kevin Harvick for 'Mr. Where did he come from!?'