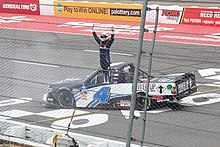 Championship Charges: John Hunter Nemechek 2021.
In 2020 it was announced that John Hunter Nemechek would not race for Front Row Motorsports in the Cup Series but rather for Kyle Busch Motorsports in the Truck Series. He was getting tired of crashing each race and each race just led to frustration he didn't deserve. His stats were much more impressive then what he had in 2020 being a rookie in the Cup Series; 3 top tens, 13 top fives, 5 DNFs, and 27th in the points. Not what a driver deserves whou could win a Truck series race. His Truck series stats before 2020 looks like this: 6 wins, 28 top fives, 41 top tens, 6 DNFs, an average point paying position of 18.8 (including part time) His Xfinity Series stats before 2020 look like this: 1 win, 12 top fives, 30 top tens, 3 DNFs, an average point paying finish of 10th.
Front Row Motorsports usually gives drivers about a 20th place ride. Now in 2021 John Hunter Nemechek would run the No. 4 Truck and earn two straight top tens at Daytona and then followed that up with a win at Las Vegas. And the rest was history: https://www.youtube.com/watch?v=w86kAOZ54nY (Copy and paste)
His stats before the playoffs in 2021 were: 5 wins, 9 top fives, 12 top tens and 1 DNF. He made a deep playoff run into the Championship 4. He then had a good playoff run before Phoenix with 4 top fives, 2 finishes of 20th or worse and 1 DNF. At Pheonix he had suffered some contact to the right front after starting at the back and spent most of his night in the back. He rallied for none other than seventh. His 2021 stats look like this; 5 wins, 14 top fives, 17 top tens, 19 top twenties, 2 finishes of 20th or worse, 2 DNFs, and 4,030 points in 3rd.
He may not have gotten the Championship but it is safe to say he charged for a Championship.