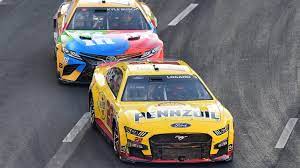 NASCAR Busts: 2022 Busch Clash
Okay, I'm betting the NASCAR Next Gen is not gonna be like this at all. If not it is definetly setting the stage up for another 2013. This is NASCAR Busts: The 2022 Busch Clash.
We are just fresh off a new season, a new car, and a new year. The Next Gen car is not the dissapointment it raced great, it is just the track. The LA Colesium is a venue that held the Olympics, and I'm no Olympics fan, but I could assume the Olympics could pull off a better event than the Clash. Lets start off with our heat races. The first cars on the front row literally dominated the event and won their heat races, and didn't even have the good old bump and runs but some good racing.  The faster cars were just mired back in traffic and it didn't set the stage up for a good main event. Then the Last Chance Qualifiers. The races had some good bump and runs and a lot of aggression. The first one was barely any wrecks with Aric Almirola being sent into the wall by Todd Gilliland. And then the 2nd Last Chance Qualifier. Was a complete total wreckfest: https://www.youtube.com/watch?v=Ia64ko8hS0w. (Copy and paste)
Another reason why it wasn't that good was the faster cars weren't up front, where you'd expect Chase Elliott, Martin Truex Jr, Denny Hamlin up front. No, not at all. And it was just a dog fight between Kyle Busch and Joey Logano at the end of the race. (Congrats to Joey Logano and the No. 22 Shell Penzoil Penske Ford Mustang Crew). So it wasn't all gloom and doom. Another thing is, not many people listen to rap who watch NASCAR. Ice Cube made his debut for his music at the halfway point. And we exepted aggression and alot of cautions that would give us an upset winner, nope didn't happen, no Green-White-Checkers.
I suggest that NASCAR has to start venturing towards Martinsville or Bristol for the Clash if they want short track racing. Or else just put them at Daytona or Talladega and have them go at it. In my opinion it was an okay move, but not the best move.
This is Phillip Bennett signing out on The Native Voice.